Samsung Gear Live & LG G Watch Arrive on Google Play Store
The first two smartwatches to run Google's brand new wearable device operating system called Android Wear are officially for sale on the Google Play Store. After first being announced back in March consumers have been eying Google's vision of a smartwatch, and now they're finally available for those interested.
Back in March the two main smartwatches announced were the now available LG G Watch, and the upcoming Moto 360 that buyers won't be able to get their hands on until later this summer. However, a surprise announcement from Google yesterday during the annual Google I/O event revealed the Samsung Gear Live, which is the other Android Wear watch available today.
Read: Samsung Gear Live vs LG G Watch: Android Wear Compared
Yesterday Google took the stage at Google I/O and showed off plenty about Android Wear, how it will work with our smartphones as a second screen to make live easier, and everything else Android Wear and a smartwatch has to offer. Then stunned the crowd by confirming they'll be on the Google Play Store the same day, and below are a few more details on both.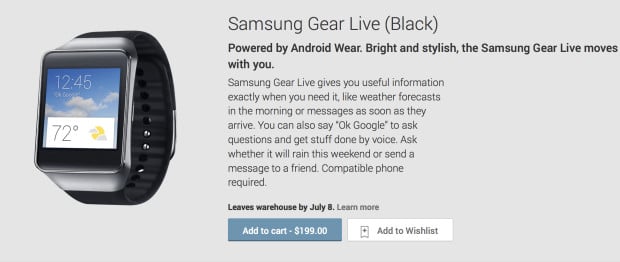 After waiting months for a real smartwatch with an operating system built from the ground up specifically for a wearable device, the first two Android Wear smartwatches can be purchased right now. Sadly they are only pre-orders, and won't ship for a few more days.
The LG G Watch will retail for $229 and ships first, available starting on July 3rd from the Google Play Store. Our comparison above explains everything buyers need to know, and you'll want to consider the choice heavily. The G Watch isn't quite as pretty as Samsung's option, but offers a slightly larger screen, two color options (black and white/gold) and essentially 1/4th better battery life.
The LG G Watch has a 400 mAh battery and a 1.65-inch LG display with a 280 x 280 resolution, while Samsung's Gear Live only has a 300 mAh battery. However, Samsung's watch has a smaller 1.63-inch display with a higher 320 x 320 resolution AMOLED display, as well as a heart rate monitor on bottom for enhanced fitness. Check out Android Wear in the hands-on video below.
Again for those looking to get the LG G Watch, it is available today from the Google Play Store and is expected to ship by July 3rd. According to Google Play availability is: Australia, Canada, France, Germany, India, Ireland, Italy, Japan, South Korea, Spain, United Kingdom, and United States.
The Samsung Gear Live is actually priced a bit lower at $199, and offers a stylish design consumers may enjoy, but does have that smaller battery. The Gear Live ships July 8th and according to Google Play is available in: Canada, France, Germany, Ireland, Italy, Spain, United Kingdom, and United States. We're hearing a second color option is coming soon, as Samsung's press release showed, but that's yet to appear on the Play Store.
Read: 10 Beautiful Moto 360 App Concepts You Need to See
We're not sure how long Google Play Will have stock of both smartwatch options, as previous device launches like the Nexus 4 from Google Play didn't last long. However Google appears to have a better handle on stocking supplies, as we saw with the Nexus 5 and 7, and we expect plenty Android Wear watches to be available for the next few weeks.
That being said, if the Google Play Store runs out of either version, we're hearing the Gear Live will be at Best Buy starting July 8th, and likely the same can be said about the LG G Watch. Grab one now while they're available, or hold out for the fashionable Moto 360 coming later this summer.

This article may contain affiliate links. Click here for more details.