Samsung Gear Live vs LG G Watch: Android Wear Comparison
Back in March Google revealed a brand new Android-based mobile operating system geared for wearable devices like a smartwatch. It's called Android Wear, and today at Google I/O the company finally detailed what buyers can expect, and tons of impressive looking features that could sway potential users.
Android Wear aims to deliver information at-a-glance to your wrist that will help users interact with their smartphones like never before, while also doing precise things without ever taking a phone out of a pocket or purse. While most users have patiently been waiting for more details about the Moto 360, today Google announced two other Android Wear watches.
Read: 10 Beautiful Moto 360 Concepts Show off Android Wear
Both the LG G Watch, and the just announced Samsung Gear Live will be the first two smartwatch options to run Android Wear, and they're going to be available for pre-order later today from the Google Play Store. There's a few important details and feature differences on each one, so read on for more details.
Over the course of the past two months a few details have trickled out about the LG G Watch and the upcoming Moto 360, but it wasn't until last week we heard Samsung could have something in the works too. However, Samsung didn't just have one planned, but they are releasing it before the Moto 360.
Both the LG G Watch and the Samsung Gear Live Android Wear smartwatches will be available today on the Google Play Store, and they'll start shipping on July 7th. All the official details were provided this afternoon by LG, and from Samsung's website.
Design
While both devices share the same rectangular form factor, that's actually the only thing these two devices have in common. Clearly they'll run the same Android Wear operating system, but it appears they each have slightly different plans. Many consumers could opt to wait for the Moto 360 and its round design, but for those who don't here's a few things about what's available first.
The LG G Watch actually has a slightly bigger display coming in at 1.65-inches vs the Samsung Gear Live being 1.63-inches. It isn't much, but that's all the real-estate you'll have. Both are similar in width but the Samsung Gear Live is 10mm taller, and also happens to be a decent amount thinner. The G Watch is 37.9 x 46.5 x 9.95mm, while the Gear Live comes in at 37.9 x 56.4 x 8.9mm.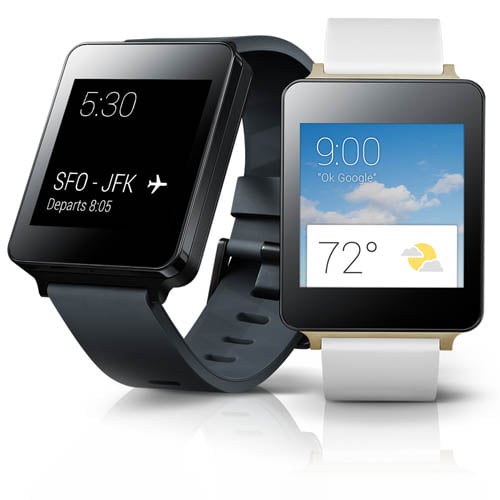 The Samsung Gear Live has a lot more aluminum on the front face as it wraps around to the plastic straps, and we're hearing they won't have aluminum options to make it look like a real watch or piece of jewelry. LG's G Watch has a plastic face with an aluminum ring around the bottom, which comes in black, or white and gold.
Specs
As we said above, these two smartwatch options actually have quite a bit of differences. The LG G Watch has a bigger screen, but it's actually a lower resolution display. The LG G Watch 1.65-inch LCD screen has a 280 x 280 resolution, while Samsung's Gear Live comes in at 1.63-inches offering a 320 x 320 AMOLED panel.
That isn't the only important difference either. Another major aspect of a tiny computer sitting on your wrist is battery life, and for whatever reason Samsung also gets beat by LG here too. The LG G Watch has a large 400 mAh battery, while Samsung's only added a 300 mAh battery inside the Gear Live. The AMOLED display may be more efficient, but lets face it, the LG G Watch will likely have decently better battery life.
There is one area the Gear Live has above the LG G Watch, and that's a heart rate monitor. Just like the Samsung Galaxy S5 and new Gear Fit, the Samsung Gear Live has a heart rate scanner and monitor underneath. This means it will likely better support the upcoming Google Fit project, as well as access to the S-Health app provided by Samsung for its other wearables and smartphones.
Those details aside these watches both run a smartphone-like list of specs. That includes a Snapdragon 400 processor 512MB of RAM and 4GB of internal storage. Both the Samsung Gear Live and LG G Watch are IP67 certified dust and water resistant.
Battery Life
As mentioned above, one major aspect prospective buyers will want to consider is the battery between both of these devices. The LG G Watch and Gear Live are very similar in size and specs, but sadly the Samsung Gear Live only has a 300 mAh battery compared to 400 in the LG G Watch.
When users have to take the device off and find a charger this could become a hassle for some, but we can't comment on how battery life actually is on either device. Android Wear is extremely efficient, and Samsung always touts its AMOLED displays as sipping on battery, but it's hard to justify the major difference when there's such little room for change.
Price & Release Date
As we mentioned above both of these new Android Wear smartwatch options will be available for pre-order later today from the Google Play Store, but they won't ship until July 7th. We're also hearing Samsung's Gear Live will be available come July 7th on Amazon, and from Best Buy stores and BestBuy.com
The Samsung Gear Live will be $199, while those opting to take the LG route and snag the all-new G Watch will retail for $229.