Samsung Hercules Headed to T-Mobile on September 21st?
The mythical Samsung Hercules, a device that many believe could be T-Mobile's first HSPA+ 42Mpbs enabled smartphone, finally has a possible release date thanks to a vague road map leak that surfaced over the weekend at TMoNews. The road map doesn't reveal any specific names so we've had to guess a little bit here but as you know, the Hercules has been rumored for a September launch and lo and behold, this little road map has a smartphone launching on September 21st.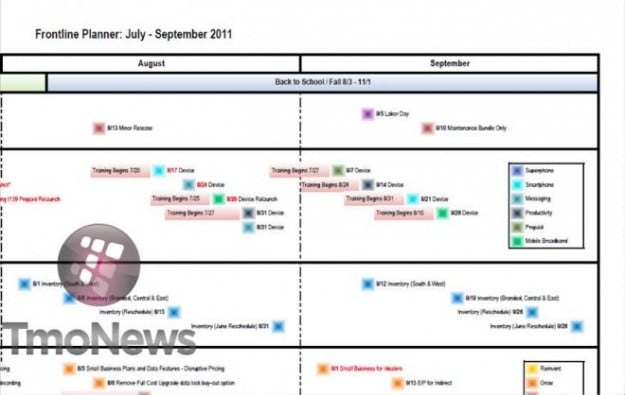 That means that September 21st might finally be the day for those of you who have been waiting to get your hands on an HSPA+ 42 device not called the Rocket 3.0. As I've said before, it's absolutely, positively, best that you wait for at least one of these devices to come out before you lock into a new contract because these phones are a big part of T-Mobile's future.
Now, does this mean that T-Mobile might not be getting the Samsung Galaxy S II? Unknown, although the lack of any leaks might mean that T-Mobile and Samsung might have scrapped it in favor of the Hercules which may or may not be a variant of the Samsung Infuse 4G. The specs we heard about awhile ago looked like this. It apparantly has Android 2.3 Gingerbread on board, a 4.5-inch 480 x 800 Super AMOLED Plus display, Category 24 HSDPA (42Mbps) and Category 6 HSUPA (5.76Mbps) which would make it the fastest HSPA+ phone on the market, 16GB ROM, 1GB RAM, and an external microSD for up to 32GB.
Still rumor at this point, but that's a sexy looking phone if you ask me. So folks, circle September 21st in pencil on your calender and keep your fingers crossed that the date refers to the Hercules and not a BlackBerry or something else.
Via: Android and Me