Samsung Intros Gear Fit: Fitness Tracker Meets Smartwatch
Samsung introduced the Gear Fit today at Mobile World Congress in Barcelona. The Gear Fit is one of three smartwatches introduced at the conference, joining the Gear 2 and Gear 2 Neo.Samsung promises that the Gear Fit is more than just a fitness band since it's able to control basic notification, phone and messaging functions.
The Gear Fit is part of a trio of smartwatches Samsung introduced at the Mobile World Conference. The Gear 2 and Gear 2 Neo replace the original Galaxy Gear, maintaining a traditional watch form factor. The Gear Fit has a radically different appearance, merging a sleek fitness band appearance with a curved AMOLED display. The display truly sets the Gear Fit apart from other fitness trackers, many of which only have blinking lights to provide any insight into activity and battery levels. With most fitness trackers, you'll need to pull out your smartphone to get any real info about your workout. The Gear Fit's display can show off a whole host of data, including heart rate, steps taken, sleep patterns and timers. It can also display incoming calls, SMS and app notifications.
These things are impossible with other fitness bands," said Samsung's David Park.    "Gear FIt redefines the category. It's not like any other fitness band out there."
Read: Samsung Unveils Gear 2 Smartwatches Ahead of Galaxy S5 Announcement
Samsung will begin selling the Gear Fit  around the globe in April, though it hasn't announced pricing or exact release dates. The Gear Fit's guts are contained beneath the display, while the band is simple to swap out to your choice of black, grey or orange.
Samsung's really focusing on fitness and health features as it rolls out its new flagship, the Galaxy S5. The phone has an integrated heart rate sensor beneath the rear-facing camera. The sensor uses an Infrared beam to read a user's pulse when they place a finger over it.  The new Galaxy S5 will also feature an app called S Health that can use the data the Gear Fit collects.
While the Gear Fit duplicates the Gear 2 in many ways, it serves a different use case. The Gear Fit doesn't have a camera, which means you can't snap pictures while you run or exercise. The Gear Fit is about half the weight of the Gear 2, weighing in at just 27 grams (1 oz.). The smaller device's band is also more conducive to weathering sweaty workouts.
Samsung claims the Gear Fit will last for up to five days on a single charge. Typical usage will drain the 210mAh battery in three to four days. That's a huge improvement over the original Galaxy Gear, which had trouble lasting more than a single day on a charge.
Galaxy smartphones such as incoming calls, emails, SMS, alarm, S-planner, 3rd party apps while consumers are on the move so they can stay connected. Changeable straps in Black, Orange and Mocha Grey will let users express their individual style, changing the look of the Gear Fit to match their outfit or mood for any type of activity.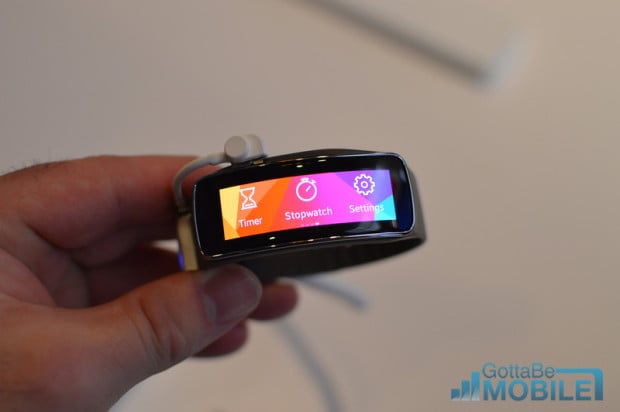 Unlike the original Galaxy Gear, the new trio of Samsung smartwatches will not run on Android. Instead, Samsung is rolling out a proprietary platform that it will open up to third-party developers. That may mean many popular apps will be left in limbo until developers can gauge whether or not the new Gear smartwatches are gaining enough traction to justify an investment. While the Gear Fit certainly looks intriguing, Samsung's original Galaxy Gear failed by most measures in the mainstream market. Part of the problem with the Galaxy Gear was that it was only compatible with the Galaxy Note 3 at launch. The Gear 2, Gear 2 Neo and Gear Fit are compatible with 17 Samsung Galaxy phones at launch. Another problem with the Galaxy Gear was that its $299 price tag outpaced the cost of smartphones for those who purchase subsidized smartphones for far less.
Samsung is clearly making a major investment in health and fitness with the rollout of the Gear Fit and the Galaxy S5. Apple is certainly keeping an eye on the competition as many analysts are predicting the long-rumored iWatch. Samsung is Apple's closest competitor in the smartphone market and it certainly cannot afford to let a major differentiator such as the Gear Fit to go unanswered for long. The iPhone 6 is expected to launch this fall, which is about as early as we expect to see the iWatch. Apple's also rumored to be working on a suite of health apps and services as part of its upcoming iOS 8.