Samsung Launches Two New UMPCs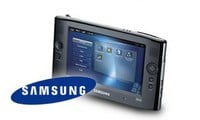 Sneaky Samsung. We've been hearing about new models of the Samsung Q1 for a bit now and Samsung has quietly launched two new editions to its UMPC line. PCWorld in reporting that while there has been no formal announcement, Samsung refereed the new models in their 3rd quarter earnings reports.
In any event, sneaky or not, Samsung's newest editions feature the Q1–Pentium, running a M723 1GHz processor, and the Q1b, using Via Technologies, C71Ghz processor. The Q1–Pentium has a 60gig HD, and 1 meg of memory and the Q1b comes with a 40gig HD and 512 meg of ram. Of course the Pentium is higher prices at $1250, and the Q1b is set at $900 and they are listed on both CDW and Newegg as available as of this writing.
Now that we there are four Q's to choose from, (don't forget the SSD) it will be intriguing to see what Samsung does around Vista time.
Via Loren Heiny

As an Amazon Associate I earn from qualifying purchases.