Samsung lets the Galaxy Tab speak for itself in YouTube demo
Samsung posted a nine-minute video showing off their new Galaxy Tab. No voice-over. No splashy effects. Just a straightforward demonstration of the device in hand. Despite or because of that, I found it very informative and easy to watch.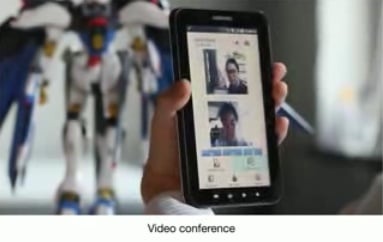 The on-screen features shown include typing with Swype, working with and viewing office documents with excellent zoom-view switching, making phone calls to contacts, video conferencing, viewing media, shopping in the Android Market, and, of course, surfing the web. The keyboard dock (which looks huge compared to the Tab) and video-out TV connection were also shown.
Less technically, the video offers a good idea as to the size of this thing. In portrait mode, it was consistently grasped by one hand stretching to both edges. Judging by that, I managed to find a book in my office to approximate the size (not that challenging to find a book of specific size in my office). Should have a good feel to it, but I'm still not convinced they're not releasing a smartphone that's too big for your pocket.
YouTube video below. Goes by surprisingly fast for a nine-minute demo, but still long enough that you'll want to set aside time to watch it. Via Pocketables.
https://www.youtube.com/watch?v=tAbsmHMAhrQ

This article may contain affiliate links. Click here for more details.