Samsung Level Headphones Arrive to Rival Apple Beats
Today Samsung Electronics announced a new lineup of premium headphones and speakers to compliment the company's growing range of smartphones and tablets. In what many are calling an attempt to battle Beats Audio, which is now owned by Apple, Samsung Level Headphones have officially debuted.
These days most smartphones come bundled with headphones, just like Samsung offers with the flagship Galaxy S5, but they aren't a premium audio experience. Which is why Beats Audio and other high-end headphones are still extremely popular.
Read: Braven BRV-X Speaker Takes Music and Charging Outdoors
In an attempt to offer more options and a better experience to Samsung (or any consumer) as well as compete with the growing popularity of the now Apple-owned Beats Audio headphones, Samsung's announced three new headphones and a portable wireless Bluetooth speaker.
If you don't own a nice set of headphones or a fancy JAWBONE portable speaker to enjoy your favorite music this summer while traveling on vacation, hanging out by the pool, or any other scenario, these new options from Samsung may be worth taking a look at.
Oddly enough Samsung isn't going for a budget option or something every smartphone owner will want to buy, and instead the new "Samsung Level Headphones" are aiming to offer a premium experience, but at a premium price tag too. The new headphones certainly aren't cheap, which is a complaint many have with Beats headphones too, but we'll have to try them before we comment further.
The Samsung Level line of audio equipment will come in four different options for those looking for a better music experience with any device, especially those with a Samsung Galaxy S5 or Note 3. Offering three headphones and one portable speaker.
Samsung's Level Over is the most expensive of the bunch announced today, coming in at $349. This offers an over the ear noise-cancellation experience that's also wireless. The Samsung Level Over is a wireless speaker with four mics on the inside and outside of the headphones to cancel outside sounds. They look fancy, and come at a premium price of $349.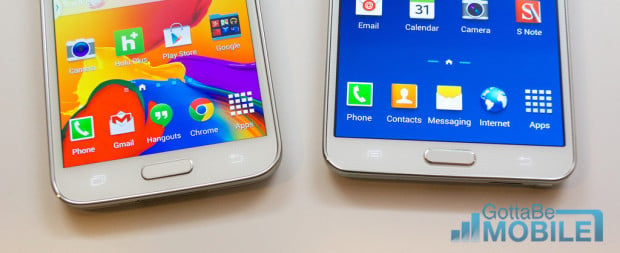 Next up is the Level On, which is a similar over-the-ear headphone but without the noise cancellation and wireless features, and they'll debut for a still pricey but competitive $179 price point.
Then last for the headphones is the Samsung Level In, which is an in-ear headphone which aims to offer excellent sound with a triple-driver system. Essentially three speakers for those who aren't audiophiles. This is an in-ear wired headphone that starts at $149.
Last but certainly not least is the Samsung Level Box, which as you'd guess, is a portable and wireless bluetooth speaker. Samsung hopes this can compete with JAMBOX, the Beats Pill, and many other portable speaker options available today. For $169 Samsung says, "The sleek, distinctive design is optimized to provide noise reduction and echo cancellation, and a built in rechargeable battery offers up to 15 hours of continuous playback on a single charge." It features NFC pairing, a bluetooth pair button, and a full metal design for durability.
Users will also be able to find a brand new Samsung Level app to control the speaker from their smartphones, and most likely that built-in battery that lasts 15 hours can charge our smartphones or tablets like a portable battery pack. Most offer this feature, so we'd be surprised to see it left out.
The entire range of Samsung Level audio equipment will be available starting tomorrow on gilt.com and from Amazon and Samsung's own sites starting July 20th.

As an Amazon Associate I earn from qualifying purchases.