Samsung Level U Wireless Headphones Review
The Samsung Level U Wireless Bluetooth headphones are some of the most lightweight, comfortable and best sounding wireless headphones I've used to date. Delivering a simple design, great battery life, dual-mic noise reduction and more all for under $70. This is our Samsung Level U Headphones review.
One of the many new official accessories for Samsung's Galaxy Note 5 and the Galaxy S6 Edge+ is a set of Level U Wireless Bluetooth headphones. This pair of headphones works with most devices, not just Samsung, and were released a few months back. Wireless headphones are a dime a dozen, and I'm usually never a fan, not to mention battery life is typically terrible. Samsung's Level U headphones though, have changed my mind.
Read: 10 Exciting Galaxy Note 5 Accessories
Samsung Level Audio products are the company's premium line of audio equipment, and I've had the pleasure of testing out the Level U around-the-neck wireless headphones for the past month. Finding something that's comfortable and won't get in the way, sound great, and has good battery life is hard to come by, but these exceeded my expectations.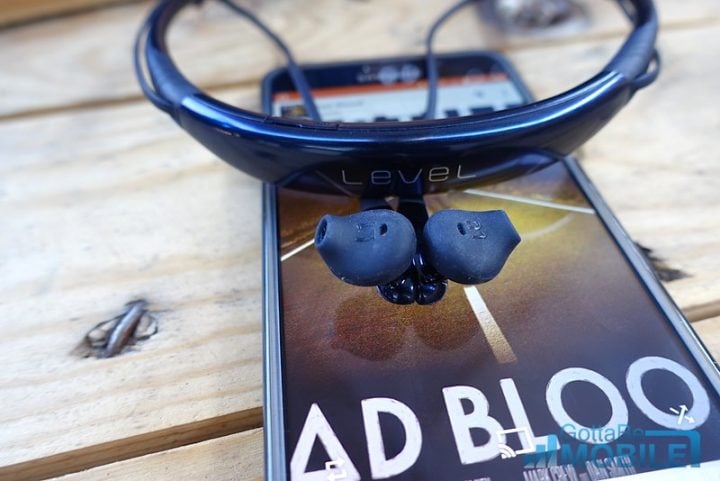 Wireless Bluetooth headphones and even around-the-neck headphones are nothing new, but Samsung's combined these with a great design and a few unique features to make them actually worth considering. I was on the fence until I got a pair during the Note 5 launch event, and have been using them 4-5 days a week ever since. I've used the LG Tone+ as well, which are heavier, more bulky, and don't sound nearly as good.
The Level U headphones come in Sapphire Black (blueish color) or White to match the Galaxy lineup, and are made of a durable yet lightweight plastic with polyurethane frames that wrap around the users neck for comfort, ease of use, and most importantly, adjustments. The flexible design allows for a tight or lose fit while in use without worrying about breaking the frames, and there's a little rubber band or O-ring that can twist up or down the frame to get the perfect length from the cords. Meaning they aren't too long, aren't too short, and won't be hitting your neck when you turn your head.
What I'm saying here is these are actually comfortable. I've used a few "around-the-neck" headphones in the past and was never all that comfortable, the cords always were too short or rubbing against my neck or cheek, and battery life was always an issue. Not to mention trying to control volume, pause/play songs, and sync over Bluetooth. The Level U doesn't have any of those problems. At least not for me. These "horse-collar" headphones are worth trying, trust me on that one.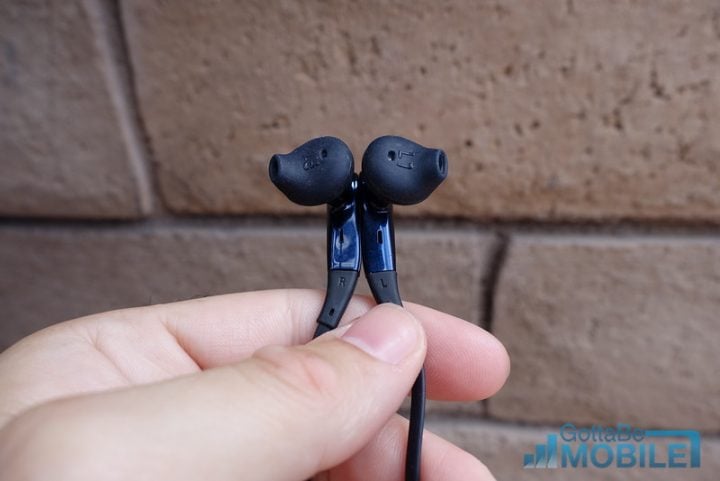 Quite possibly my favorite aspect is the earbuds are both magnetic. This means while they aren't in use they won't get tangled, be in the way, or get caught on anything. Simply touch them together and they rest neatly on the users chest, as shown in the image above. There is also a vibration motor inside that lets you know when pairing mode starts, completes, or for incoming messages. It's light, and not too intrusive.
The overall design is nothing fancy, but that's the point. They're simple, easy to use, straightforward, and lightweight. The plastic glossy finish doesn't have any cushion or rubber on the inside for comfort, but these are so lightweight after a few minutes I completely forgot I was wearing them. I actually forgot at the airport and tried to walk into the scanner with them around my neck.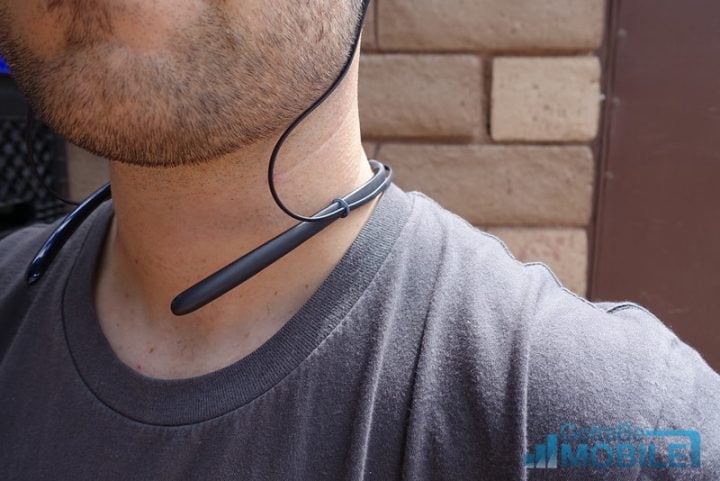 Samsung's Level U design is very simple, but I do have one complaint, and that's the power button. It's on bottom while being worn, and hard to toggle on and off. Meaning I have to reach around back and under the frame, and use my fingernail to switch them on. That said, standby battery life was so incredible I just didn't bother turning them off, even through a 10 hour day at the airport.
While being worn the power button is on the bottom middle left, as stated above, and on the top middle left side is the micro-USB charging port. This is the same cord we charge Android devices with, so any charger will do. Samsung thankfully put a nice flap to seal the charging port, so sweat and hair won't fall inside while working out or riding a bike.
Then the only other thing buyers need to know is about the three buttons on the right side. There is a big pause/play/sync button, then a volume up and a volume down button. That's it. Long-press to enable sync or pairing mode, find it with an Android device like the Galaxy Note 5, and start playing tunes. Tapping the sync button will pause or play, long-press volume up goes to the previous song, and long-pressing the volume down button goes to the next track. It's simple.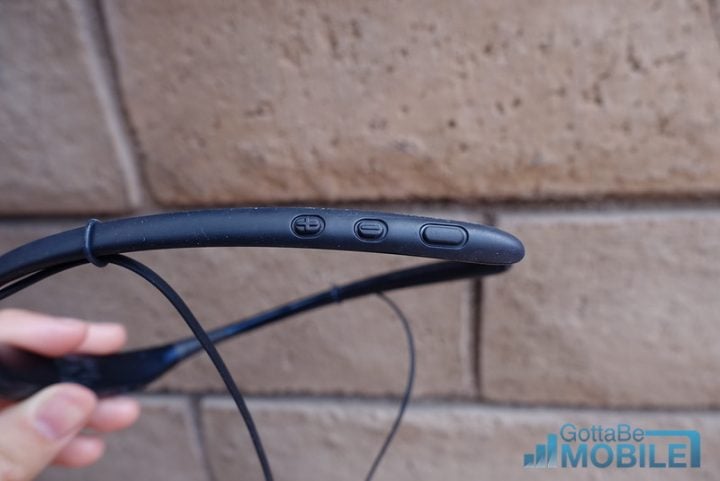 Here's a quick picture right from Samsung that better explains what each button does. It says rewind 1 second, but it actually goes back and forward a track, which is what I'd prefer. They're matte black, soft rubber, and hard to see, but once you know where these buttons are it's dead simple to operate.
The Samsung Level U headphones come with three different headphone tips to cover the 12mm dynamic drivers that deliver pretty excellent sound, and more bass than I was ever expecting. The large size comes installed out of the box. Then there is a smaller set I put on, and a set meant for hiking, working out, biking, or other strenuous activities where regular buds might fall out of an ear. Samsung calls these stabilizing tips, or gels. These fit snugly in the ear but aren't as comfortable in my opinion.
So how do they sound? Pretty great actually. Any audiophile will knock the idea of streaming music over Bluetooth, but I found them to be pretty impressive. I have some Audio Technica AD900 headphones, Yuin PK2's, and some in-ear monitors. While they each serve a different purpose, I have room for the Level U headphones. They sound excellent, highs are crisp while lows were surprisingly more present than expected, and they're great for travel.
To make things even better owners can download the Samsung Level App to customize sound profiles for the best experience possible, and tweak the sound to fit their needs.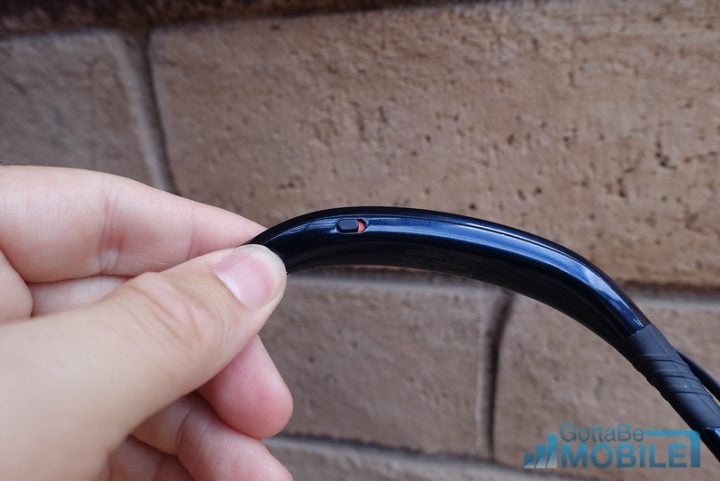 Samsung promises around 10 hours of music playback, 11 hours of talk-time (with support for S-Voice) and 500 hours of standby. I left mine on all day, was at the airport for nearly 13 hours, and streamed NFL pre-season games the entire day and had battery leftover. I don't think I was listening to music for 11 hours straight, but that was way more than I expected, and will suffice, to say the least. This is much better than the typical 4-5 hours on some smaller (and bigger) headphones.
The fact that these have noise reduction and echo cancellation, amazing battery life, are so lightweight you'll forget they're being worn, and sound great, is more than enough for me to recommend them. Yes, they're a bit expensive at $69.99 from Samsung, but considering the convenience and sound quality that price is more than worth it.

As an Amazon Associate I earn from qualifying purchases.