Samsung NC10 Netbook Review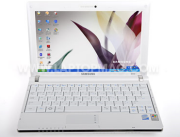 Joanna Stern at Laptop Mag got her hands on the Samsung NC10 Netbook and has given it a once over. Although I'm not really in the market for a Netbook, the Samsung NC10 is one that I've been keeping watch over, and from what I am reading so are a number of other folks. I think that is because of the more spacious keyboard. Note that the review unit that Joanna evaluated was a Korean Import with a Korean keyboard. Check out the review here.

As an Amazon Associate I earn from qualifying purchases.