Samsung: 'No Plans' to Launch Galaxy Tab 7.7 and Galaxy Note in the U.S.
The Galaxy Tab 7.7 and Galaxy Note are two devices that are generating quite a bit of buzz here at IFA 2011 in Berlin. There's a lot to like about these devices, but unfortunately you might not be able to buy one stateside. According to Samsung, there are currently no plans to ship either of the devices in the U.S.
After gawking at the Galaxy Tab 7.7's beautiful Super AMOLED Plus display and the Galaxy Note's high-resolution AMOLED display, I asked a Samsung spokesperson when I could buy one.  She told me that there were no plans to sell it in the U.S. The press event was crowded and noisy and it wasn't clear to me which one she was talking about. I was tired after a long day at the conference and I probably wasn't clear about which one I wanted. For the record, I'd like to buy both to play with.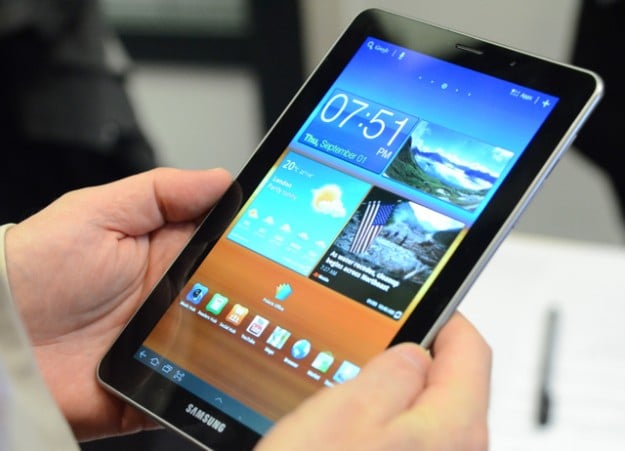 When I was back in my hotel room I sent the Samsung rep a text message asking for clarification:
Me:  "You Mentioned that there's no plans to launch the new tablet in the U.S. at Showstoppers.Can you please clarify if u   were referring to the Note or the 7.7?"

Her: "Both."
That certainly wasn't the answer I was looking for. It's no secret that gadget makers will only sell devices where they think they can sell them, but I'm still disappointed. As a photographer I think the Galaxy Tab 7.7 would be a fantastic way to show off my work on the go.
Hopefully Samsung can find at least one U.S. wireless partner to sell the device. Americans are used to paying very little for wireless devices thanks to carrier subsidies. Perhaps the Galaxy Tab 7.7 is just too expensive to be competitive in the U.S. market as Samsung hasn't yet announced pricing.
There is of course a chance that Samsung is playing coy and already has a partnership announcement lined up down the road.
The Galaxy Tab 7.7's slim design and gorgeous display  put it at the top of my shopping list. Now I just need to know who's going to take my money for it. Will it be a U.S. retailer or am I going to have to procure one from overseas?

As an Amazon Associate I earn from qualifying purchases.