Samsung Notebook 9 Goes Even Thinner
Samsung has great news for anyone that feared Windows notebook makers would set aside their thin-notebook arms race. The Samsung Notebook 9 is an impossibly light notebook computer that runs Microsoft's Windows 10 operating system and is available at CES 2016.
It was at its briefing today that Samsung revealed the Notebook 9. The company will be at the Consumer Electronics Show all week teasing its vision for new devices. The Notebook 9 is the latest in a now extensive line-up of super-thin tablets made by Samsung. The company was one of the first to bring the super-thin form factor to Windows after the MacBook Air was announced.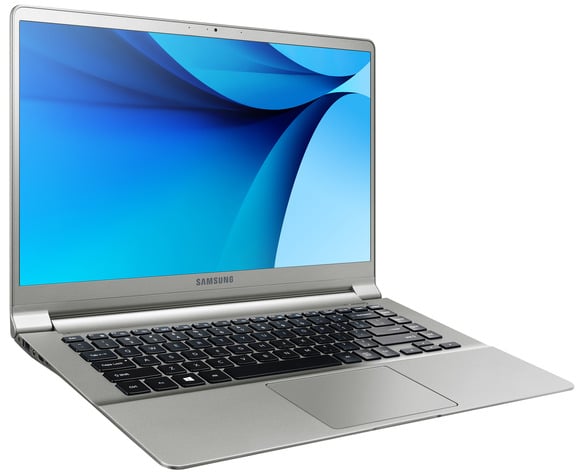 There are two Samsung Notebook 9 devices set to arrive on store shelves. The smallest packs a 13.3-inch display. The other is a 15-inch version that weighs 2.84 pounds. Each includes the latest Intel Skylake processors. It's those processors that allow the Notebook 9 to be so thin. Users will be able to configure either device with an Intel Core i7 processor if they really need the power. Base models will come with an Intel Core i5 processor.
That Samsung was able to create machines this light while using magnesium for their case is impressive. To get there the company had to omit some extras. There's single USB Type C Port and Two USB 3.0 ports on each machine. More screen real estate in the 15-inch model allowed Samsung to add a single Micro-HDMI port, Mini VGA port and mini Ethernet port.
We only know that the Samsung Notebook 9 will go on sale sometime this March. Samsung hasn't yet discussed pricing on either size model, which is unfortunate given how close their release is. We also don't know how long the batteries in each of these devices will last. Cutting down on how much a notebook weighs involves reducing the size of its battery.

As an Amazon Associate I earn from qualifying purchases.