Samsung Now Leads U.S. Android Smartphone Market in Q3 2010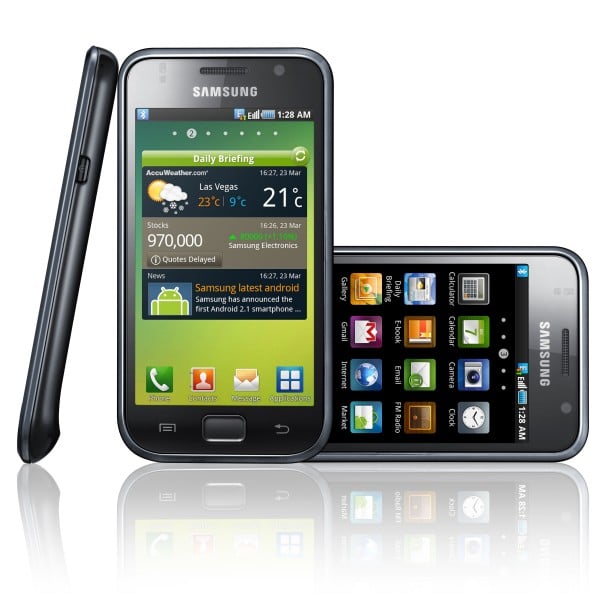 Samsung has just announced that it is the leading Android smartphone maker in the United States in the third quarter of this year. Citing market data by Gartner, the company is crediting its success to the wildly popular Galaxy S series smartphones, which has appeared on all four major national carriers as well as a few larger regional carriers. The Galaxy S is available and known in the U.S. as the AT&T Captivate, the Sprint Epic 4G, the T-Mobile Vibrant, and the Verizon Wireless Fascinate.
With the Galaxy S, Samsung has used some of its technology to hype up marketing behind the Android smartphone, including a vibrant Super AMOLED display that's visible under direct sunlight, a speedy 1 GHz single-core Hummingbird processor with graphics prowess, and the TouchWiz user interface on top of Android 2.1 along with Samsung's proprietary widgets such as the Daily Briefing widget that gives users a quick glance at the latest stocks, news, calendar appointments, and weather information on a single screen/widget.
In addition to the Galaxy S, the company also has a number of low-end and mid-range Android handsets; the Galaxy S represents the high-end market for its Android smartphone portfolio. Mid-range models include the Samsung Transform and the Samsung Intercept; both models are available through Sprint.
The company has announced also that it has shipped a total of 3 million smartphones and that it has captured 32.1 percent of the U.S. Android market in Q3 2010.
While HTC was the first manufacturer to ship an Android handset in the form of the G1 on T-Mobile, Motorola and Verizon Wireless are often credited with popularizing Android and turning the product mainstream with the Droid brand. Motorola has since released a number of popular Droid handsets on Verizon Wireless and the Droid X on Verizon Wireless can be seen as a direct competitor to Samsung's Fascinate, a Galaxy S variant for the U.S. carrier.
Samsung also recently announced that it had reached a milestone for its tablet, the Galaxy Tab. That product has now sold over 1 million units.