Samsung NX200: Sample Pics from Berlin
Here's some sample photos taken with the Samsun NX200 camera that was just announced at IFA 2011 in Berlin. I got to borrow an NX200 during a tour of the city last night, before the compact camera was formally introduced.
The NX200 is an interchangeable lens camera that features a 20.3 Megapixel APS-C sensor. This is a huge sensor for a camera this size, enabling it to produce much cleaner images than you'd expect out of a camera this size.  The sensor is the same size as the ones found in most DSLRs.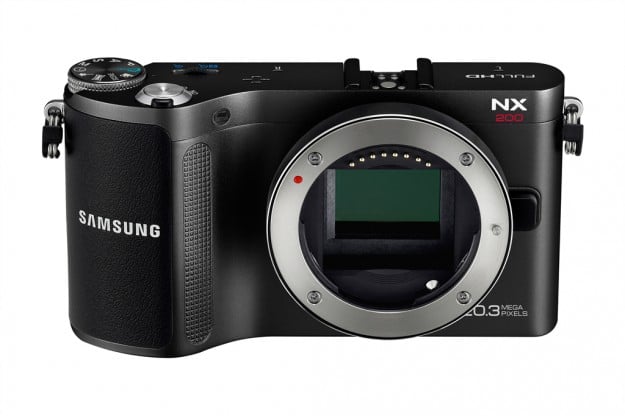 The NX200 ships with a 20-55mm kit lens, but if you're going to spend money on a camera like this then you may as well purchase a higher-quality lens, such as the optional 16mm f2.4 wide-angle lens, which is what I shot most of these sample photos with.  Samsung also has a 18-200mm zoom lens that covers it all and a nice 85mm f1.4 portrait lens available.
This camera is worth a look if you're looking for high-quality images, but don't want to lug around a DSLR. It's not going to replace a DSLR for professionals or serious enthusiasts, but it looks like a worthy option for those who want to take a serious step up from point and shoot cameras.
Our first stop on the tour was at a remaining section of the Berlin Wall across the road from the O2 Arena. from the lThe 16mm lens is equivalent to a 24mm wide-angle lens on a camera with a full-framed sensor. It's still plenty wide enough for most users.
I was pleased with the first several photos I shot. The camera was easy to handle with the 16mm lens and the dial controls were easy enough to figure out.
I really like how the NX200's panoramic mode works. Rather than snapping several photos and stitching them together later,  NX200 captures an entire scene  with one push of the shutter button and panning the camera from side to side.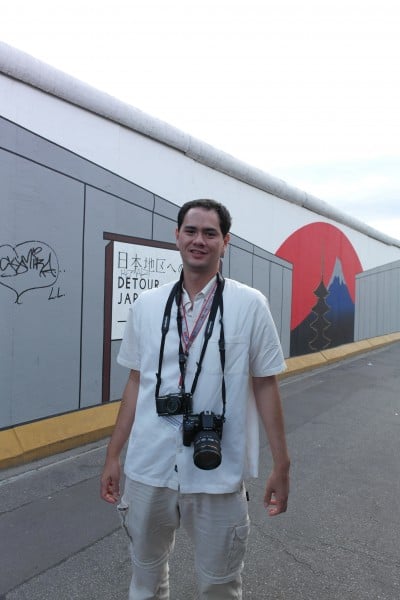 A snapshot taken with the NX200 of myself sporting my Nikon D7000 and Olympus Pen EP-3. The NX200's sensor is the same size as the sensor found in the big DSLR hanging around my neck. The NX200 is in same general class as the EP-3, which I recently purchased. Unlike the EP-3, the NX200 doesn't have a built-in flash, which would've necessitated a thicker body. Instead, it ships with a small external flash that slides into the NX200's hotshoe.  Even though I generally avoid using cameras' small built-in flashes, I think Samsung should have wrangled one into the NX200. Another thing that's missing from the NX200 is an optional viewfinder. According to Samsung, the optional viewfinder on previous cameras simply didn't sell.
Here's a snapshot of Checkpoint Charlie on the former border of East Berlin and West Berlin.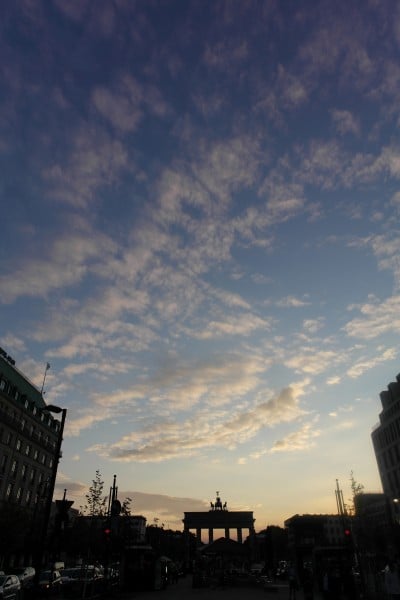 Here's a shot of the sky over Brandenburrg Gate.  I really appreciated the wide angle lens while touring around the city. 
At dinner I switched over to the 85mm f1.4 lens, which is a pretty serious lens for such a compact camera. The 85mm lens dwarfs the NX200's body. The setup felt akward since I'm used to using more stable DSLRs.
One thing I had to get used to was the iFn button on the lens, which allows the user to adjust settings with the manual focus ring.  For example, when in Aperture mode, the focusing ring controls your choice of aperture or exposure compensation. I prefer dedicated dials for such things, but it's one of the compromises that's made to pack everything into such a small package.
After spending a few hours with the camera I have mixed feelings. It has a solid build quality and the images that come out of the device are nice enough. But the proprietary lens system puts me off a bit. Like a lot of photographers, I've invested a lot of money in a camera system (Nikon) that's been around for decades and will likely be around for decades to come. There's a wide selection of Nikon and third-party lenses and accessories to choose from and that are widely available. With the Samsung system, you're completely dependent on Samsung's current offerings and future innovations.
Click the thumbnails below for the NX200's full-size images.

As an Amazon Associate I earn from qualifying purchases.