Samsung Officially Announces The Q1 Ultra UMPC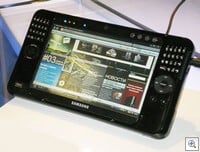 The BusinessWire press wires are humming with news that Samsung is taking the wraps off of info on the Q1 Ultra Ultra Mobile PC. Of course word has been out on this device for quite some time, so in many ways it is one of the worst kept secrets out there. Here's a link to the press release.
The interesting news contained in the press release is that pricing for the Q1 Ultra will start at $799 and that the new UMPC will be available from Best Buy, Circuit City CDW, CompUSA, Amazon, NewEgg, Buy.com, Costco, and a host of other retail outlets.
We've been under NDA on this for awhile and we've got a lot more info to publish once we get the go ahead, so stay tuned.

As an Amazon Associate I earn from qualifying purchases.