Samsung Officially Announces U.S. Galaxy S4 Availability for April
It's official. After Samsung had debuted the Galaxy S4 flagship Android phone at a New York City event last month, there was speculations about when the device would launch for the U.S. market, with what processors and what the official specs are. Now, we have most of the details as Samsung has just issued a press release that answers many of those lingering questions, stating that the Galaxy S4 will be available 'starting during April.'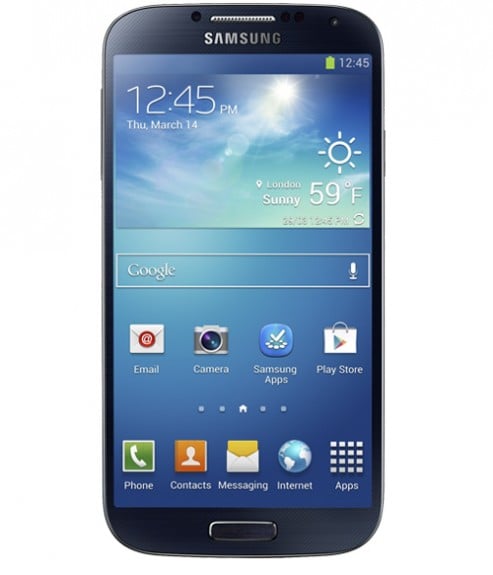 That said, exact pricing and retail availability are not yet announced, and it will be up to the carriers themselves to announce the official retail availability dates. Samsung confirms that the device will be hitting "AT&T, Sprint, T-Mobile and Verizon Wireless as well as U.S. Cellular, Cricket and C Spire"
Samsung is just saying that the device will launch starting the month of April. Likely, some of those carriers will launch their Galaxy S4 variants on cue while others may take a bit longer.
In addition to the official U.S. carriers, the Galaxy S4 will also be available at retail stores from Best Buy and Best Buy Mobile, Costco, Radio Shack, Sam's Club, Staples, Target and Wal-Mart.
Like the international version, the Galaxy S4 comes with a 5-inch Full HD Super AMOLED display, a slimmer, sleeker design, and will weigh in at just 4.6 ounces. And while the phone roughly bears the same dimensions of the Galaxy S3 before it, it now accommodates a larger, higher resolution display. The Galaxy S4 will be available in a choice of two colors, Black Mist and White Frost, and will have a removable battery.
The device will come with either 16 or 32 GB of on-board storage and users can augment storage capacity with a micro SDXC card. This means that the Galaxy S4 will have a maximum storage capacity of 96 GB with an external card.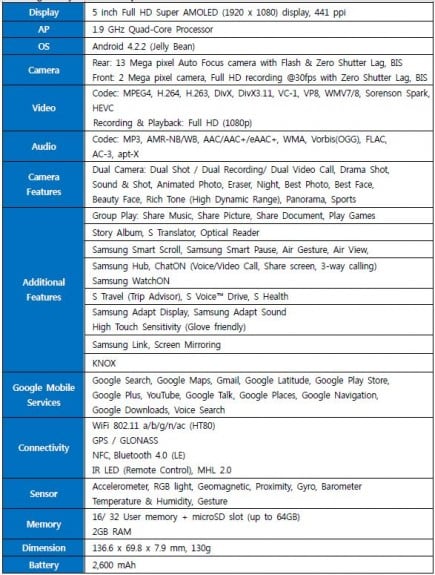 The press release didn't mention which processor will be used by name. It merely states that the device will use a 1.9 GHz quad-core processor. Given the omission of Samsung's own Exynos branding with the Exynos 5 Octa found on the international variants, we're going to say it's safe to say that the device will debut with Qualcomm's Snapdragon 600.
Also on board are an IR blaster, WiFi 802.11 a/b/g/n/ac, GPS, GLONASS, NFC, Bluetooth 4.0 LE, NFC, and MHL. There will be a number of sensors including an accelerometer, RGB light sensor, geomagnetic sensor, proximity sensor, gyroscope, barometer, temperature sensor, humidity sensor, and gesture sensor.
And with the camera experience being at the forefront of many recent flagship launches, Samsung is promoting some of the features that the Galaxy S4's 13-megapixel camera can produce:
Drama Shot: Capture a progressive event, like a baby's first steps or a basketball player's slam dunk, in one frame
Eraser Shot: Remove unwanted objects or people from an otherwise perfect picture
Animation Shot: Turn your favorite moments into animated GIF
Live Filters: With built-in filter options, an individual can now see how a picture will look– on both the camera and camcorder – before the photo is taken
Compile photos with location and weather information with Story Album™ to create the most comprehensive and personalized memory book. Integration with Blurb's photo book printing service allows consumers to easily print a physical book to keep or share.
New gestures will also be supported to help you make the best use of your phone. Air gesture allows users to skip to the next song or answer a phone call simply by waving their hands in front of the front-facing camera. Air View allows users to preview emails and photos or open drop-down menus on websites simply by hovering a finger over the display. And speaking of the display, like that of the Nokia Lumia 920, the Galaxy S4's display works with gloves so users in colder climates will appreciate the thoughtfulness.
There's also Smart Pause which pauses a video when users look away from the screen and a Samsung Optical Reader that makes it easy to scan a business card into the phone's address book.
And though Samsung introduced a number of new health accessories at the NYC unveiling, the most compelling day-to-day accessory for the Galaxy S4 is the new S View Flip Cover. Like the Flip Cover available for the Galaxy S3, Galaxy Note, and Galaxy Note II, the S View Flip Cover is slim and replaces the back battery cover. It comes with a wrap-around polyurethane cover to protect the display and gives the Galaxy S4 the look of a mini folio. The interesting thing about this display is that it has a small cut out window so users can still see notifications and alerts without having to flip open the cover or turn on the display.
The S View Flip Cover unfortunately costs a steep $59.99 while the Flip Cover without the notification view window will go for $39.99 at retail.
We'll have a review of the Galaxy S4 up when the device is available, but April will be a hot month for flagship Android phone users with availability of the HTC One and the Galaxy S4.

As an Amazon Associate I earn from qualifying purchases.