Samsung Pay Release: Everything Shoppers Need to Know
Today Samsung Pay is officially available in the United States, aimed at taking on Apple Pay, after a short one-month beta program for select users. Similar to both Apple and Android Pay, Samsung's now offering those in the United States on certain carriers, with specific banks, access to the world's best wireless mobile payment method.
Earlier this year Samsung Pay was initially introduced, then shown off again in August during the Galaxy Note 5 launch event. A few lucky users have been able to enjoy it for well over a month already, like myself, and it's Samsung's own version of Apple Pay, only much better.
Read: Android Pay vs Samsung Pay: What's the Difference
The reason Samsung Pay is getting so much attention, is because this mobile payment solution is better than both Google and Apple's option, by being backwards compatible with older payment terminals all over the United States. The options are somewhat limited for now, but those with select Samsung devices will absolutely want to read on for more details.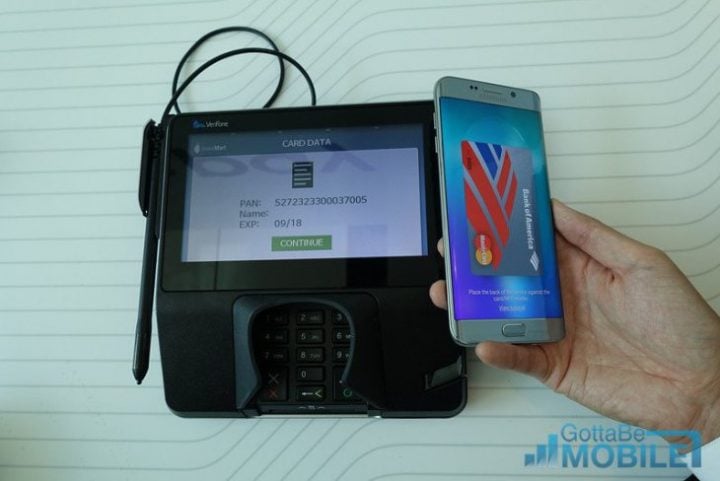 The most important aspect of Samsung Pay is the fact that it works everywhere, not just at select mobile payment-capable places that take Apple Pay. In fact, it works essentially everywhere that takes a credit card. This makes it far better than anything else available right now, but it's somewhat limited because it only works with a few devices, certain carriers, and select banks, but additional support is coming soon.
Introducing #SamsungPay. https://t.co/eATcCazw6n pic.twitter.com/d7R2KxKKKo

— Samsung Mobile US (@SamsungMobileUS) September 28, 2015
With Samsung Pay users are able to make wireless payments over NFC (Near Field Communications) just like Apple Pay, at a wide array of locations around the United States. Just tap the phone to make a payment. Where things are better though, is Samsung also is backwards compatible with magnetic-strip based payments terminals, which use MST (Magnetic Source Transmission) which is what almost every machine uses to accept credit and debit cards. This technology is called LoopPay, which Samsung acquired back in February and integrated into its latest devices.
Supported Devices & Banks
While Apple Pay works on millions of devices including the Apple Watch, Samsung Pay is still somewhat limited. Owners are required to have a Samsung Galaxy S6, Galaxy S6 Edge, Galaxy Note 5, or the big Galaxy S6 Edge+ in order to use it.
Furthermore, it will need to be one of the above mentioned phones with a supported carrier in the United States. Those on AT&T, T-Mobile, Sprint or US Cellular can enjoy it, but sadly Verizon is not on board. Which is a major issue for millions of potential users.
So, if you have a capable Galaxy device and are on any of the carriers mentioned above, you'll now have to have a supported bank. See where this is going? It's a bit limited now, but once Samsung Pay is fully accepted everywhere, it has to potential to completely take over both Apple and Android Pay, mainly because it works virtually everywhere.
At launch Samsung Pay supports VISA, MasterCard and American Express cards, but only for select banks. The next step is to be a member of Bank of America, Citi or U.S. Bank. Samsung has confirmed they're busy working with a huge collection of other banks to add more support in the near future, so things could change soon and allow more users on board.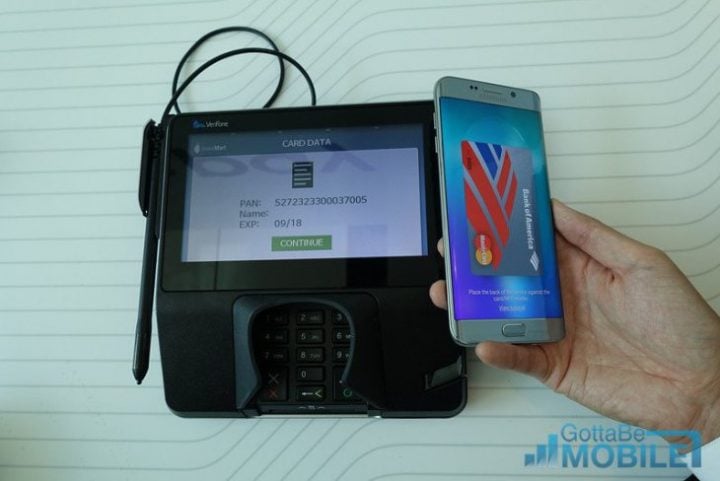 Samsung Pay is secure, simple, and works almost everywhere. In fact, it works in more places than any other mobile payment service. All users need to do is set it up, add a card, and it can instantly be pulled up from the notification bar, lockscreen, or by opening the app. It's secured by a fingerprint, and tap the terminal, or put your phone near where you'd regularly swipe a credit card.
That's it, and it's all done. I've been using it for over a month at vending machines, grocery stores, Walmart, Starbucks and more. It's by far the easiest and most convenient mobile payment system to date.
Users will need to download the Samsung Pay app on their Galaxy or Note device, in the Galaxy Apps store (not Google Play) and most likely there's an update waiting from AT&T or other carriers as well. After the update the app will be pre-installed (like on AT&T) and ready to be installed. Just tap Samsung Pay in the application tray to get started.
It's worth noting that for a limited time, Samsung is giving Galaxy Note 5 or S6 Edge+ users who sign up for Samsung Pay a free wireless charging pad, or a free Flip Wallet case to use it. Open Samsung Pay and select More > Announcements, and redeem the offer shown on the page.
In closing, Samsung also announced today that its payment solution works with Square card readers, further expanding its capabilities for now. As soon as more banks, Verizon, and addition cards are supported we'll update with all the details.

As an Amazon Associate I earn from qualifying purchases.