Samsung Pits Tizen-Powered NX300M Smart Camera Against Galaxy NX Android
Though we're still waiting for Android powerhouse Samsung to launch its first smartphone(s) running the Tizen operating system that the South Korean electronics-maker has already launched a smart camera on the market with Tizen on-board. Dubbed the NX300M, the camera is a variant of the existing NX300 available worldwide, though the M model is currently only available in South Korea.
The NX300M is a camera with an interchangeable lens system that taps into Samsung's NX ecosystem. What's unique is that Samsung already announced the Galaxy NX camera that uses the same swappable lens system, but the Galaxy NX model comes with Google's Android OS preloaded as well as a number of connectivity options, including WiFi, 3G, and 4G LTE radios. Additionally, as Android is a more mature platform, users of the Galaxy NX would benefit from Google's robust ecosystem of apps and content, and essentially the Galaxy NX works similar to Android phones and tablets on the market today.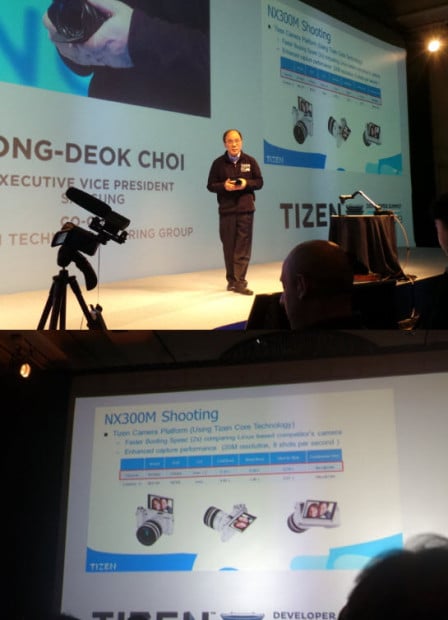 According to Unwired View, Samsung quietly confirmed at its recent Tizen developer conference that the NX300M, announced this past October, runs the Tizen Camera Platform, which shares core code with the Tizen OS. So how does the NX300M compare to the non-Tizen NX300? Samsung says that the Tizen Camera Platform is responsible for 2X the boot time and faster speeds when compared with other Linux camera platforms. The 20-megapixel capable NX300M is able to get up to 9 burst shots per second.
This should make the NX300M competitive against the Galaxy NX in terms of photographic capabilities, though the NX300M does not come with the mobile broadband radio to connect directly to the Internet. Instead, users will have to connect their WiFi-enabled smartphone to the camera so that captured shots are instantly transferred to the phone. Then, users can share images to social networks from their phones. On the Galaxy NX, users could do this all directly on the camera.
Tizen 2.2.1 for smartphones, in the meantime, is coming sometime in the first part of 2014 and Samsung is already working on Tizen 3.0 for a third quarter launch next year that will support a 64-bit ARM processor, likely using Samsung's 64-bit Exynos CPU.

As an Amazon Associate I earn from qualifying purchases.