Samsung Planning Galaxy S III Mini Launch Next Week?
The Samsung Galaxy S III may be followed by a smaller cousin if Samsung has its way. The South Korean Android smartphone-maker may be unveiling a smaller counterpart to its popular flagship in the form of the Galaxy S III Mini on October 11th if rumors pan out to be true. An invitation for the event was obtained by All About Samsung with the heading "so gross kann klein sein," which translates to "the size may be small" in English.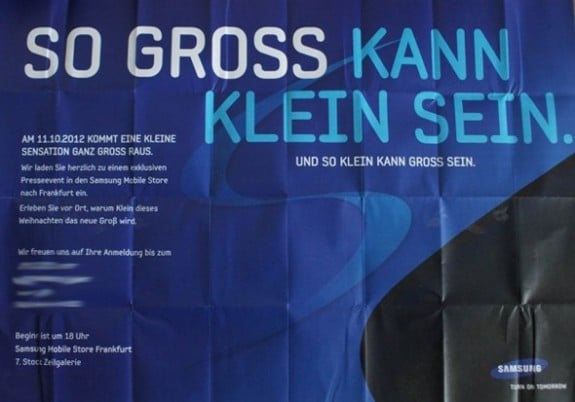 Samsung has historically been known to offer a huge product portfolio with differing devices for different users, unlike rival Apple's one size fits all strategy. Rather than force users into a specific set of specs, Samsung has offered differentiated smartphones and tablets spanning different screen sizes, processor specs, resolutions, and memory configurations.
No specs or information is currently available for the rumored Galaxy S III Mini. The phone will likely offer competitive specs with a smaller display than the the 4.8-inch HD display employed on the flagship Galaxy S III. A more compact size with powerful specs may allow Samsung to compete against and target Apple's iPhone 5 directly–that device has a 4-inch display that Apple says makes it easy to operate in one hand.
As the phone will be introduced in Germany, it's unclear if the Galaxy S III Mini will be headed to U.S. carriers. The Galaxy S III has been available on all four national carriers in the U.S. along with some regional carriers. In addition to the Galaxy S III Mini in Germany, Samsung will also be launching its high-profile Galaxy Note II with an even larger 5.5-inch HD display this holiday season in the U.S.

As an Amazon Associate I earn from qualifying purchases.