Samsung Q1 Ultra UMPC in da GBM house!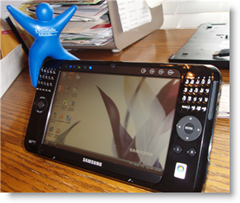 Well, I have been waiting impatiently for my new OQO Model 02 to show up while playing with the new Lenovo X61. No shortage of fun around here right now. When I saw a box had arrived today, I got the familiar old feeling I get every time something electronic shows up on the doorstep of GBM Southeast regional office! You know that feeling, right? Technolust!
A quick glance at the label on the box showed that it was a package from Samsung, which told me right away what was inside, a new Samsung Q1 Ultra UMPC! As you can see from the picture, Splotch climbed right on the thing, ready to go for the big ride (he makes little squeaking noises every time a new device shows up – No, really, he does!)! Get off there Splotch, there is serious playing (I mean work) to be done here!
Well, there was no other choice (since work was out of my head for the day) but to open the box and get that all important 1st impression. Here is my real quick bulleted list of thoughts as I picked it up and spent about 20 minutes before running off to normal domestic husbandly evening duties:
Slimmer and lighter! – I have not compared the specs to my Q1p, but this puppy is definitely smaller and lighter

Screen takes up much more of the device – It struck me right away that the screen itself was most of the front of the device, and that there seem to be fewer buttons

Windows Vista sticker – Not a "Vista Capable" sticker, just a "Windows Vista" one.

How do ya get the darn battery in? – Took a minute to figure that out, and felt a little like I was forcing it, but I probably did not do it right

Battery gauge button on the battery – Yeah! I love those little buttons on batteries that let you know the charge level with a gauge…

Boot up a bit slow – Powered it on, and it took a while. Even when I thought it was done booting, I could not get apps to load. Once booted it was fine, but did take a while to get started.

Cursor control! – Yeah! Thank you Samsung. Unfortunately, I found it really hard to control, but I have been so used to the cursor button being on the right with the TabletKiosk eo i7210. This unit has the cursor control on the left and the L/R mouse buttons on the right.

Thumb keys are pretty tiny – My big thumbs were saying, huh? But they got used to it. I opened up Notepad and did a little typing. REAL awkward at first, but I got better pretty quickly. I had to keep shifting my eyes side to side though, since it is not a natural touch typing experience. Having it split is kinda weird, but I could get used to it though. I was in a slightly dark room though, and there is no backlighting on the thumb keys, making it real hard to see the keys.

Resolution switching button? – I don;t think there is one! Need to figure that out. Surely there are multiple resolutions….

Screen is BRIGHT – Man oh man. What a bright screen. I am sure it will suck life out of the battery quickly if up all the time, but there is nothing dim about this thing.

Ink looks really good – I played in Windows Journal and felt the ink laid down nicely, BUT….., palm rejection was pretty bad. No joy for me there. Wish the darn thing had an active digitizer already!

Touch works well – There is no question that touch is fun, and it seems to work really well on this model. I had no problems using the on-screen mouse cursor control.

Where's the stylus? – I had to hunt a minute, but but found it on the bottom right. Used to that being top right on Q1p.

Prop up stand on the back is nice. All UMPC's should have this stand!

Camera lens in front AND back – Yeah! The included webcam/ digicam has a lens in the front and back of the screen. Good move.
Okay, that is about all for now, InkShow coming folks, so if you have questions, get em in now so I can address them in the show! More later folks!

As an Amazon Associate I earn from qualifying purchases.