Samsung Q1 Ultra UMPC InkShow

Well, as promised, here is my InkShow review of the Samsung Q1 Ultra UMPC. I spent a LOT of time on this machine, and attempted to answer as many of the questions I could folks posed on it, but there were so many I am sure I missed a few. I would like to have more time, but alas all the other GBM team members are wanting their time with this eval unit as well!
The Samsung Q1 Ultra was first announced this year at CEBIT in Germany, and there has been quite a high level of anticipation on this machine, which has just now began shipping to end users. The model of Q1 I received was the Q1U-V model, which is the earliest model to ship. It comes with an 800 Mhz Intel A110 UMPC processor, 1gb RAM, and a 60gb 4200 RPM disk. Pre-installed is Vista Home Premium.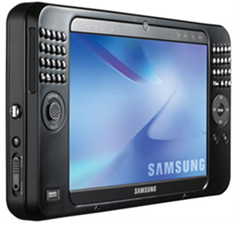 The Samsung press materials indicated the following models available (some coming soon) of the Q1 Ultra:
1. Q1U-V – A fully featured 800mhz launch model with a retail of $1,199.00 (reviewed here), with Vista Home Premium
2. Q1U-XP – An 800mhz business (?) model with the Windows XP OS with a retail of $1,149.00
3. Q1U-CMV – An 800mhz HSDPA cellular enabled broadband model retailing at $1,499.00, with Vista Home Premium
4. Q1U-EL – A "back to school" model will be introduced at $799 with a 600mhz processor and Vista Home Premium
Here is a quick rundown on what I covered in the InkShow:
General comments
Physical Walkaround on the Q1 Ultra hardware

Some real-time application load times, including video and audio

A quick look at the internal 1.3 megapixel / 300 pixel camera / webcam

A comparison look at the Samsung Q1 Ultra vs. the Samsung Q1P UMPC. Which machine got a CrystalMark benchmark score of 13,000, and which one got 16,000?

A quick keyboard and text entry experiment

Inking on the Q1 Ultra — my comments on ink and touch
Machine specs (as tested):
Genuine Windows ® Vistaâ"¢ Home Premium
Display: 7″ WSVGA touch screen (300 nits, 1024 x 600)
Hard drive – 60gb 4200 RPM
Processor: New Intel Ultra Mobile Processor A110 (800 MHz)
Battery: Li-Ion (Prismatic) 4 cell (over 4.5 hrs)
Two Stereo Speakers (4w total)
Integrated split-QWERTY keyboard
Dual cameras (video chat-300P, video/still-1.3MP)
Integrated mouse/joystick

My conclusions? Well…, performance with the 800mhz processor under Vista was a major negative for me. There was not a consistent snappy feel to things, and I never seemed to know when that "drag" would appear. I like the look and feel of the machine in my hands, but there are a few "gotchas" in there that make this not a machine I will want to insert into my tech arsenal. You'll have to watch the show to find out more! It is a nice machine that I am quite sure will have a loyal following, especially with those who have already integrated a UMPC into their lives. These machine are expected to show up in retail at places like Best Buy, Costco, etc…

Just as a quick note, the video is a little dark in the beginning because of focusing the camera on the really bright screen. Hope you enjoy the show.

Watch or download the High Res version (45:19 minutes, 356mb, Windows Media streaming or direct download)

Visit the Samsung Q1 Ultra Website

All GottaBeMobile.com InkShows are sponsored by:

As an Amazon Associate I earn from qualifying purchases.