Samsung Q1 Ultra UMPC Pricing Info Trickling Out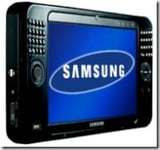 Rob thinks there is confusion about Samsung's naming of its next edition of the Q1 with one too many ultras in the name. Well, this morning there has been some confusion about pricing info for the Samsung Q1 Ultra Ultra Mobile PC as well. Steve (Chippy) Paine of UMPC Portal has been working the beat and, after a few false starts, has gotten word that the Q1UUMPC looks like it will debut in Europe next month at a price of 1200 euros. Crossing the pond is where the confusion comes in. At regular conversion rates that would put the US price hovering around $1600, which is a bit steep. But don't panic on that just yet. Word filtering around is that the US price will probably be around the $1200 mark for the Q1UUMPC. No definitve word on that at the moment, but that's the current thinking.
All of that said, I'd still like to see these devices hit at a lower price point.

As an Amazon Associate I earn from qualifying purchases.