Samsung Q2 Ultra Mobile PC Leaked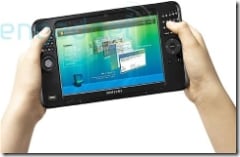 Engadget has the scoop and a bunch of pictures! Some of the specs:
Unknown Intel CPU running Vista Home Premium, a 1,024 x 600 WSVGA resolution, two digital cameras (1.3 megapixel for "photography" and 0.3 megapixel for videoconferencing), and a fingerprint scanner. QWERTY split keyboard and Bluetooth 2.0, WiFi (802.11b/g), HSDPA, and WiBro.
Thanks for the Tip about the article from GBM reader Ronald Dowty

As an Amazon Associate I earn from qualifying purchases.