Samsung Releases Capacitive Touchscreen Stylus for Galaxy Tab Tablets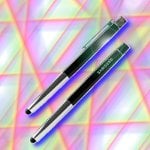 In order to appease more users who may want finer control of their tablets, Samsung is releasing its own Conductive Pen, priced at $19.99, which would work on the company's Galaxy Tab Android tablets as well as any other tablet that utilizes a capacitive touchscreen, including the Apple iPad, Motorola Xoom, and even the HTC Flyer.
The HTC Flyer is slightly different from traditional capacitive touchscreen tablets, like Samsung's Galaxy Tab. The Flyer has an active digitizer overlay on top of the capacitive touchscreen display so that the tablet can also make use of an active digitizer stylus, which offers more fine control on inking. Unlike the HTC Flyer's HTC Magic Pen, which taps into the HTC Scribe functionality for inking, annotating, and highlighting, the Samsung Conductive Pen does not rely on an active digitizer technology.
However, the benefit of a conductive stylus versus an active digitizer like the HTC Magic Pen is that the conductive stylus works much in the same way a finger would work in navigating the Android OS. My main gripe about the HTC Magic Pen is that it's only use for drawing or writing functionality, and you can't use it, for instance, to tap on an icon to open an app or on a menu item to select a different menu setting. The functionality, unlike how an active digitizer works on a Windows-based tablet PC, is more limited, and that's due to inking capabilities being added through the HTC Sense layer and not found universally on Android.
Additionally, at $20, the Samsung Conductive Pen is much cheaper than the $80 asking price of the HTC Magic Pen, though in the U.S. Best Buy is not throwing in the HTC Magic Pen gratis when a user buys an HTC Flyer.
The Samsung Conductive Pen should offer similar functionality as other third-party conductive and capacitive touch stylus, like those made by Targus, Pogo Sketch, Kensington, Rocket Fish, and others.
Via: Phone Arena

This article may contain affiliate links. Click here for more details.