Samsung Replenish Green Phone Gets Raspberry Pink Option on Sprint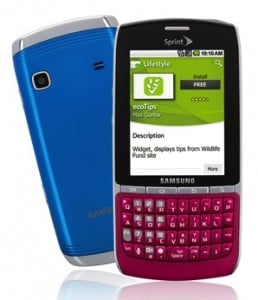 The Samsung Replenish, heralded by U.S. carrier Sprint as the nation's first environmentally friendly Android smartphone, will be getting another color option in the form of Raspberry Pink come July 24th. Currently available in Onyx Black and Arctic Blue, the Replenish is made from recycled plastics and come with eco-friendly packaging. There is an optional solar power battery door as well to harness the power of the sun to increase talk times on this Android handset.
The 3G smartphone also benefits from a $10 discount in the monthly data plan, highlighting Sprint's commitment to the environment.
The Replenish offers a Blackberry-style form factor with a front-facing keyboard and a portrait-oriented touchscreen. Similar to the Motorola XPRT, also on Sprint, and the Motorola Droid Pro, the design of the Replenish differs in that the Replenish has a lower resolution QVGA display whereas the XPRT and Droid Pro offer an HVGA display in that form factor.

As an Amazon Associate I earn from qualifying purchases.