Samsung Reveals Samsung Galaxy Nexus Coming to Seven Carriers
Though Google and Samsung did not formally announce at the Galaxy Nexus' unveiling alongside the debut of Ice Cream Sandwich which carriers the device will be coming to, the signup page for the smartphone hints that it is coming to seven U.S. carriers with the big four national carriers all included this round.
In the past, Verizon Wireless has been hinted as a carrier to support the Galaxy Nexus with 4G LTE, and now we know, according to Google's signup page for the device, that the smartphone will also be coming to AT&T, Cellular South, MetroPCS, Sprint, T-Mobile, US Cellular, and Verizon Wireless.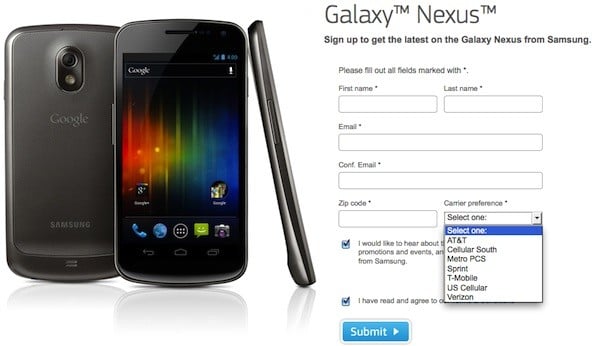 Given that the Nexus One, the debut Google Nexus smartphone, was supported by two U.S. carriers–AT&T and T-Mobile–and the Nexus S, the second-generation Google Nexus smartphone, was supported by three U.S. carriers–AT&T, Sprint, T-Mobile–this is an improvement and should give consumers and developers who want a pure Google experience on their smartphones more choices when it comes to carriers.
Via: Engadget

As an Amazon Associate I earn from qualifying purchases.