Is Samsung Rigging Galaxy Note 3 Benchmarks?
Samsung's Galaxy Note line is mostly known for its large expansive screen, but this year's version, the Galaxy Note 3, added a new superlative: powerful. Unfortunately, if rumors about Samsung intentionally rigging the Galaxy Note 3 to score better on benchmarks are true, its crown as powerhouse phablet could be in jeopardy.
While testing the Samsung Galaxy Note 3 in preparation for its review, tech publication ArsTechnica noticed that benchmarking scores for the device completely outstripped those of other smartphones. Ordinarily, that wouldn't be odd, newer smartphones with upgraded processors routinely outstrip their older counterparts. However, the publication says that it began to get suspicious when it noticed that the LG G2 received vastly lower scores – even though it used the same 2.3 GHz Snapdragon 800 processor.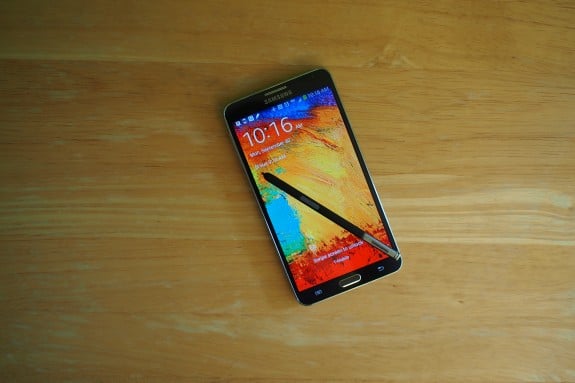 After what it calls "a good bit of sleuthing," that outlet says that it's managed to track down why this happens, and its results are not good news for Samsung's image at all.
"We can confidently say that Samsung appears to be artificially boosting the US Note 3's benchmark scores with a special, high-power CPU mode that kicks in when the device runs a large number of popular benchmarking apps."
Effectively, it's ArsTechnica's belief that Samsung is deliberately boosting the public relations profile of the Galaxy Note 3 by fooling reviewers and industry watchers with fake benchmarks that being generated on demand.
That's pretty damning, and it's a practice that got Samsung into trouble earlier this year after the launch of the Samsung Galaxy S4. At that time, some reviewers noted that the device seemed to go into an enhanced mode only when popular benchmarking apps like Geekbench were run on it.
At that time the company released a statement defending the practice saying, "The maximum GPU frequencies for the Galaxy S 4 have been varied to provide optimal user experience for our customers, and were not intended to improve certain benchmark results." It also said that it intentionally boosted performance for other apps like the S Browser, Gallery, Camera and Video Player too.
Galaxy Note 3 is certainly a powerful phone. It still managed to best LG's G2 without manipulated benchmarks, and GottaBeMobile's review of the Galaxy Note 3 trumpeted its speediness. This does allude to a coming issue for Android buyers.
Read: Galaxy Note 3 Review: Samsung's Most Powerful Phone
Should users actually consult processor benchmarks when purchasing a new device, or should they be more focused on the user experience as a whole, despite differences in processing speeds? It's an interesting conundrum, one that'll only become more relevant as Android manufacturers continue to bump up processor speeds in their devices.
The Samsung Galaxy Note 3 is coming to AT&T for $299 on October 4th. Sprint users will have the option of purchasing the device for $349 on that date as well. Both prices include a two-year service agreement.

This article may contain affiliate links. Click here for more details.