Samsung Series 5 Hybrid PC Combines Ultrabook, Tablet Concept
After Acer and Asus had unveiled their Windows 8 tablets with keyboard docks–a design that became popular with Asus' Android-powered Transformer slates–Samsung took the stage at Computex to ready its own design of the same concept. Samsung is using magnets to secure the tablet to the keyboard dock, and like rivals Asus and Acer, the docked Series 5 Hybrid PC will take on a form factor more akin to notebooks and ultrabooks with the tablet serving as the display. However, when users don't need the power of a full keyboard and trackpad, they can undock the screen and just carry around the touchscreen portion as a standalone Windows 8 slate.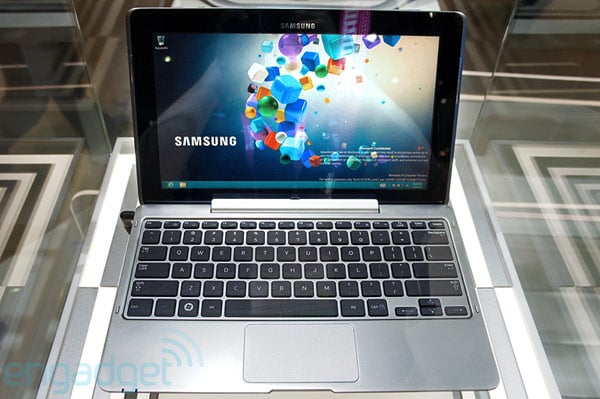 The simplicity of using magnets to dock the screen and keyboard portion may make this device stand out among competitors in terms of simplicity and usability.
Additionally, Samsung is porting some of the technologies that it is using on its Android-based Galaxy Note series to the Series 5 Hybrid PC, including the S Pen, a digitizer that will allow for more precise input and handwriting, as well as the company's S Memo, which is a note taking app as a lightweight alternative to Microsoft's One Note for consumers.
The design and features are still subject to change, according to Engadget, but Samsung is saying that the tablet runs a low wattage Intel Clover Trail x86-based CPU. That means that this version will run on the full edition of Windows 8, and not just the ARM-based Windows RT release. Other hardware features include a micro SD card slot, high speed USB port, 1080p HD display, and front- and rear-facing cameras. The device is rated for up to 10 hours of computing. The display measures 11 inches.