Samsung Series 7 Slate Review: First Impressions
These days whenever someone mentions the word "Tablet" visions of the iPad or something similar dance in their heads. Not that long ago a tablet was something quite different: a Windows-based slate computer.
Since the rise of the new idea of the tablet there have been a few Tablet PCs trying for relevance in an iPad-ified world. The problems they face include the not quite touch-friendliness of Windows 7 and that the CPUs inside either didn't have enough power to make the tablets usable or enough oomph but far too much heat for a handheld device.
Samsung's Series 7 11.6-inch Slate want to solve both of these major problems. Inside the 0.51-inch chassis is an Intel Core i5 processor for the mainstream performance you'd expect from a laptop. The Slate keeps heat at bay by employing a fan (which can get loud at times).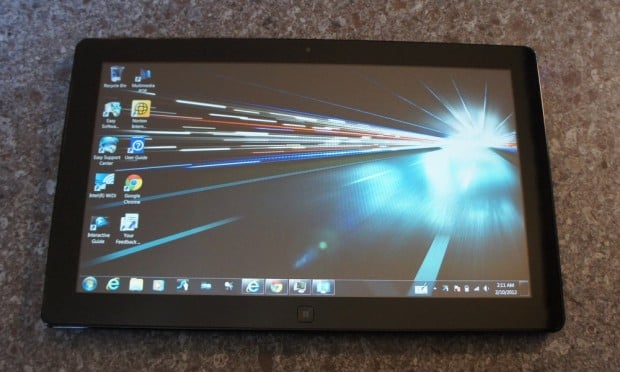 Though you can't make Windows 7 act like iOS or Android in every way, Samsung does provide a more mobile OS-esque interface for finding and launching programs. Plus, the touch input doesn't always just turn your finger into a mouse pointer. I was able to scroll up and down web pages and move Windows around by just tapping and dragging, exactly as I'd expect.
Right now, the biggest drawback to the slate-only experience here is the on-screen keyboard. There are two on board — the one built in to Windows and Swype. I much preferred Swype because it utilizes screen space better and it provides the familiar trace to type functionality I enjoy on my phone and Galaxy Tab.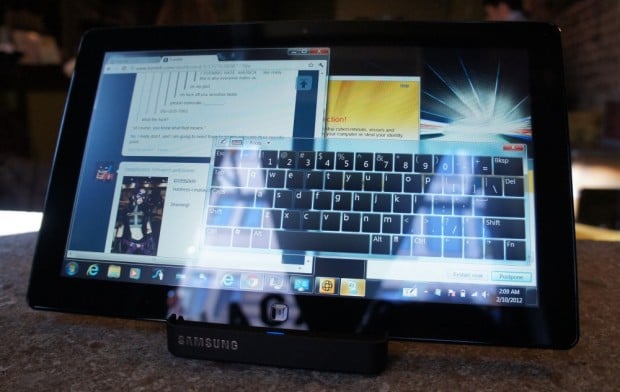 Neither of these keyboards quite knows when to get out of the way completely. In a mobile OS the keyboard doesn't appear until you tap on a text field or call it up some other way on purpose. Once you're out of that field, it disappears automatically. Not so one the Series 7. The keyboard hangs around, taking up half the screen, dutifully waiting for you to need it again, except what you need is to see what's on the screen.
The Series 7 is also larger than most tablets with a 16:9 display that's 11.6 inches wide. It's not as easy to hold comfortably as a 10-inch slate thanks tot he size and weight. I'm not convinced that I'll be able to stand long Angry Birds sessions with it — I'll try, though. For science.
I'll have a full review up for you soon. What would you like to know about the Series 7 Slate?