Samsung Shows Off Series 5 Ultra Touch, Series 5 Convertible Ultrabook
At Computex, Samsung is showing off more of its Windows 8 wares in addition to a Transformer-like slate with a magnetic keyboard dock. The South Korean manufacturer is also expanding its Series 5 ultrabook efforts with two new devices–a Series 5 Ultra Touch, which is essentially a Series 5 notebook with a clamshell form factor and a touchscreen addition, as well as a Series 5 Convertible Ultrabook, which is a form factor that we've seen earlier this year demoed by Lenovo in the form of the IdeaPad Yoga.
The Series 5 Convertible Ultrabook has a 13-inch touchscreen that can swivel around 360 degrees so that users can close it with the keyboard exposed on the rear to have a slate-like form factor.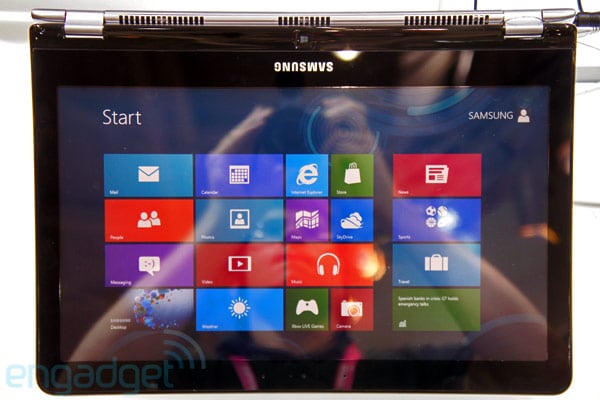 According to Engadget, both devices utilize a combination of metallic and plastic parts and neither have backlit keys. The glossy displays have a resolution of  1366 x 768. There are USB 3.0, two USB 2.0 ports, Ethernet jack, HDMI port, and a memory card reader.
At this time, it appears that both devices are still in prototype form and Samsung isn't providing much in terms of RAM or other specs. Engadget did notice that there was a listing for a 500 GB HDD so costs should be fairly reasonable.