Samsung SmartCam HD Pro Review
The Samsung SmartCam HD Pro is an affordable 1080P WiFi camera that allows you to monitor your home or office when you are not there, complete with two-way talk so you can communicate with others, as well as motion and sound alerts.
With the Samsung SmartCam HD Pro installed you can see a room clearly in day or at night from your computer, Android phone or iPhone. The camera includes multiple modes to improve the quality of the video stream and smart options to control alerts for motion and sound.
A Micro SD card slot allows users to store recordings taken with the camera at specific times, when movement is detected or with continuous recording. With WiFi connectivity you can place this almost anywhere in your home. It is not meant to go outdoors though. Samsung includes mounting hardware to secure to a wall, or you can place it on a desk, table or other flat surface with the stand.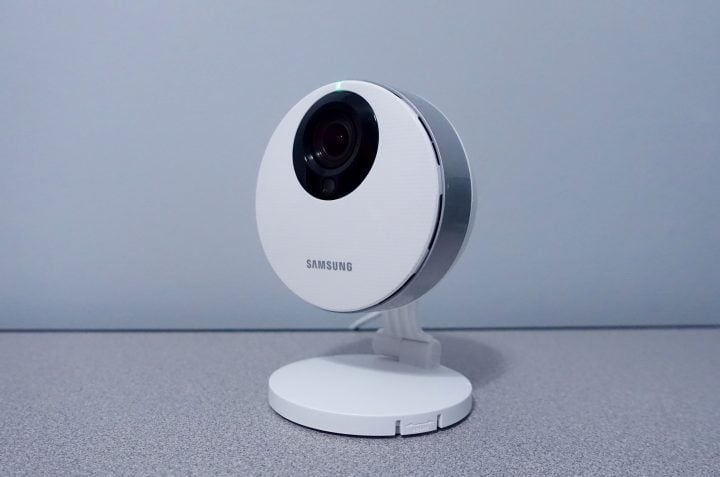 The Samsung SmartCam HD Pro is $159 at Amazon and other retailers, there are no added fees to view the stream or use the app since the recordings are stored locally.
The downside to local recordings is that if someone breaks in and takes the camera, they also take the recordings with them. There is an option to send alerts directly to your google with a capture of the image. It is a smart idea to turn this on, so you can see the images and the time stamp.
When motion or audio is detected you can set up your smartphone to get push notifications so that you know when someone is in your house.
Setting up the SmartCam HD Pro is easy with an iPhone or Android smartphone handling the primary step of connecting to your WiFi network. If the power goes out or if you need to move the camera to another spot in your house you do not need to perform new setup options to get connected.
While traveling for the holidays we moved the camera to another location so we could watch our two dogs in the main area of the house, and it was as simple as unplugging from power and plugging the camera into an outlet in another room.
With the camera connected we could use it to see what our two dogs were up to, talk to them over the built-in speaker and for fun play them a song using the built-in lullaby function that is designed for use in a nursery.
Although I did not have any times where the camera was not connected to WiFi there were times where the iPhone app would not connect over LTE and until this week I was unable to use the desktop web-app on Mac. Now that it is up and running I can connect and see the camera from iPhone or from my computer.
You can connect up to 10 SmartCam HD Pro units to the same WiFi network and it is possible to place an individual password on each camera so that you can share access to some, but not all cameras with other people if you need that.
The iPhone application works well with the latest updates and we can finally use the web app to make changes to settings and options after many issues getting that installed.
Overall the hardware works well, the wide-angle lens does a good job of capturing an entire room and alerts are quick and useful.
The software is a pain to deal with after setup when it comes to managing the camera, passwords and other options. Actually viewing the camera, using two-way talk and other viewing options are simple and reliable, but outside of that the camera management is frustrating.
Changing passwords and managing the uploads of motion detection can only take place online. On a Mac, this only works in Safari and only after you can get the software to install. For a month of our ownership we could not install this web plugin. Now that it works we are able to manage these options, but it the interface looks dated compared to most apps and webpages.
Ultimately the camera does what it promises and the initial setup is simple, but you will need some patience to complete advanced setup options on a Mac.

As an Amazon Associate I earn from qualifying purchases.