Samsung Stratosphere Will be 'Epic' 4G LTE Smartphone
There were rumors surrounding the release of the Samsung Stratosphere as a possible Samsung Galaxy S 1 or Galaxy S II variant, and now we are beginning to get more details about Verizon's 'Epic' smartphone release. Unfortunately, however, epic in this case may not be of epic proportion, as that description would be reserved for the forthcoming flagship Droid Bionic, a dual-core, qHD-toting 4G LTE Android beast.
Epic, here, as the case of the Stratosphere may be, will be a re-tooled Sprint Epic 4G handset that swaps the Now Network's WiMax radio for a Verizon LTE radio for 4G connectivity according to uncovered pictures from pocketnow. Unfortunately, as the Stratosphere is released nearly a year after the original Sprint Epic 4G variant, it seems a bit dated as far as specs go, especially considering that the device is rumored to be launching alongside the Droid Bionic come September 8. In an age of high resolution displays, the Stratosphere may be limited to a single-core Hummingbird CPU like the Epic along with a WVGA Super AMOLED display.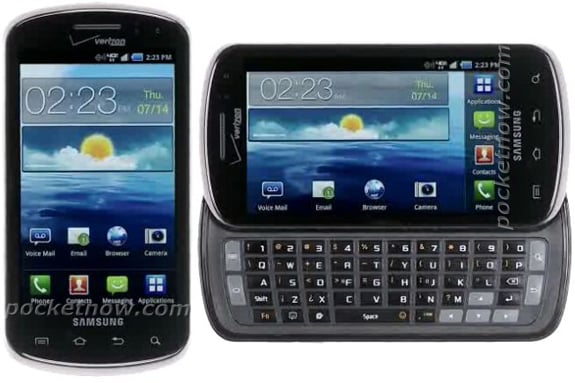 That said, the smartphone should be a capable keyboarded alternative to the Droid Charge for those who prefer the sliding QWERTY form factor over a pure touchscreen device for the ease of messaging.
That said, while the Epic 4G, along with the Fascinate on Verizon and other Galaxy S variants, was a high-end device last year, the Stratosphere may make 4G LTE more affordable for consumers. It is expected to be among the least expensive smartphones on Verizon's growing 4G portfolio.
PocketNow, via Droid-life

As an Amazon Associate I earn from qualifying purchases.