Samsung: T-Mobile Galaxy S II Coming With 1.5GHz Dual-Core Qualcomm Processor
Ever since T-Mobile announced the Samsung Galaxy S II back in August, the phone has remained shrouded in mystery. The first sign came when T-Mobile had the phone behind glass and refused to give out any specifics about specs or a release date only saying that it would be out this fall and that it would have a 4.2-inch display with a dual-core processor.
We theorized that the lack of details probably had something to do with the phone's processor and it seems like we have our confirmation today. Yesterday, we learned that T-Mobile's Galaxy S II would not have the same chip as the AT&T and Sprint models and Samsung's Galaxy S support account has confirmed that the device has a 1.5 GHz dual core Qualcomm APQ8060 processor.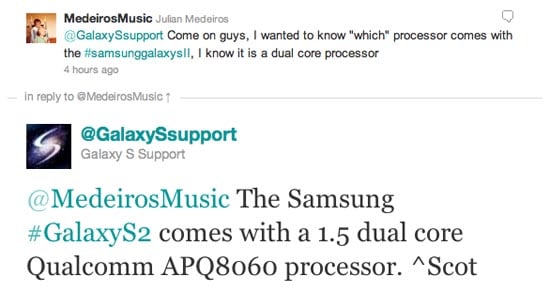 The processor that was heavily rumored to be under the hood.
You see, the AT&T and Sprint variants both employ a 1.2GHz Exynos processor from Samsung, a processor that doesn't support HSPA+ 42mpbs speeds. And if you recall, T-Mobile's Galaxy S II has been rumored to be compatible with T-Mobile's 42Mpbs HSPA+ network.
Qualcomm's processor is compatible with the MDM8220 modem, the Exynos processor is not. Now, that doesn't necessarily mean that 42Mpbs HSPA+ is 100% certain, it's not, but it's definitely a good sign.
Now all we need is a release date and a full spec sheet.
Via: PhoneDog