Kathi (my wonderful, awesome wife), Matt, and I are traversing the Central Hall of CES and made a bee line for the Samsung booth. It is HUGE!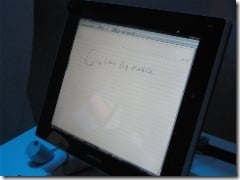 Nothing new to report on with the Samsung UMPC from what we already know, although we have a meeting tomorrow with some Samsung reps to talk about future products. While perusing the booth, we happened upon Samsung's Tablet Monitor, the 720TD.
The 720TD Tablet Monitor operates off of ultra-sonic detection to digitize the ink from the pen, and is not pressure sensitive. However, the writing experience was very smooth. The rep could not provide pricing, but it is available for ordering now. We shot some video and will try to get it posted in the next day or so.
Specs:
Resolution: 1280 x 1024

Brightness: 270cd/m

Contrast Ratio 700:1

Video Angle 160 degrees

Response time: 8ms

As an Amazon Associate I earn from qualifying purchases.