Samsung Takes Another Cue From Apple: Device Engraving
In Samsung's native homeland of South Korea, the company will be offering its consumers the option of getting their devices personalized through custom engraving. At launch the service will only be offered on the company's Galaxy Note, which is a device with a 5.3-inch screen that comes with both voice and data capabilities and will straddle the classification between smartphone and tablet.
It's unclear at this time if the personalization service will expand either to more devices, or to more countries outside of South Korea. Given that most phones sold in the U.S. are sold through carriers with contracts, devices in the U.S. likely won't be shipping directly from Samsung so the prospect of personalizing phones would require some changes to the shipping and delivery process.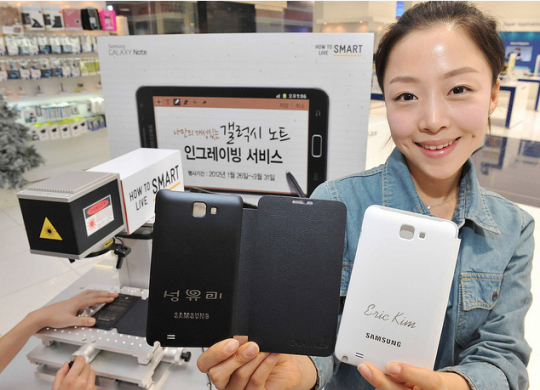 The Galaxy Note will be launching in February in the U.S. with 4G LTE connectivity under AT&T.
With Apple and Samsung still embroiled over a number of lawsuits over accusations of each other 'stealing' the other's intellectual property, it'd be curious to know if Apple will find Samsung's latest bit of 'imitation' flattery or something else.
Via: Android Community

As an Amazon Associate I earn from qualifying purchases.