Samsung Takes On Sony Playstation PSP with Mobile GamePad for Android
Samsung is looking to take on mobile gaming consoles like the Nintendo DS and Sony's Playstation PSP with its new GamePad for Android phones. The Smartphone GamePad and Mobile Console was announced in South Korea by Samsung and is currently available in select European markets and Samsung is promising that availability will hit more regions in the coming weeks. Hopefully, the GamePad will be coming to the U.S. for mobile gamers, though Samsung has not yet disclosed what the MSRP is for this Galaxy phone accessory.
The premise of the GamePad is not unlike what NVIDIA had done for the Shield. However, unlike the NVIDIA Shield, which is an all-in-one solution with a fold-out display, the GamePad itself is just a gaming controller with a slot to attach a phone with a screen size ranging from 4 to 6.3 inches, meaning it should be able to accommodate even Samsung's largest Galaxy Mega phone. So rather than a built-in display a la the Shield, the GamePad makes use of the phone for the screen and the horsepower to drive games.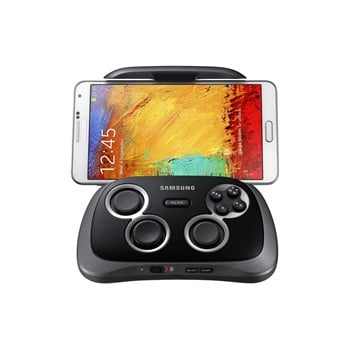 In terms of controllers, the keys that are available on the GamePad include an 8-way directional pad, 2 analog sticks, 4 action buttons, 2 trigger buttons, a select button, a start button, and a PLAY button to launch games.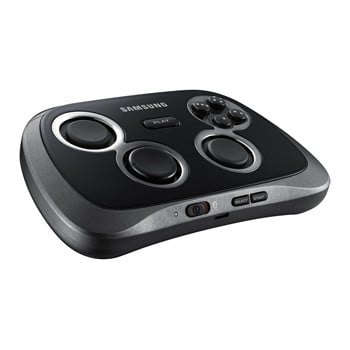 Speaking of games, Samsung is also bundling a Mobile Console app that is accessible with the "PLAY" button on the GamePad. This allows users to browse available games that are compatible with the GamePad.
GamePad will pair with existing phones via Bluetooth and NFC. The device is said to be optimized for Android 4.3, which means that it will work easily with the Galaxy Note 3, Galaxy S4, Galaxy Note 2, and Galaxy S3.
Additionally, which the GamePad is aimed at mobile use, gamers at home can turn their smartphone or phablet into a living room console by mirroring the games to a larger HDTV.
"Users can also connect Galaxy devices to their TV through an HDMI cable or AllShare Screen Mirroring for video game console experience from their living room," Samsung said in its press release.
Common game titles include: EA's Need for Speed™ Most Wanted, Gameloft's Asphalt8 : Airborne, Gameloft's Modern Combat 4 : Zero Hour, SEGA's Virtua Tennis™ Challenge, Ubisoft's Prince of Persia : The Shadow and the Flame. There are 35 games at launch, and additional titles are forthcoming next year.
The rig is powered by a rechargeable 160 mAh battery.

As an Amazon Associate I earn from qualifying purchases.