Samsung TecTiles NFC Tags Review
Alongside the Galaxy S III launch in the U.S., Samsung will also release an accompanying NFC accessories called TecTiles. TecTiles essentially are NFC stickers that you can place anywhere you'd like, whether it's on a business card, a flyer or advertisement, or a banner. Consumers can even buy them and place them around the home, in their offices, or in their cars. The purpose of the TecTiles is to quickly automate frequently used tasks, and Samsung says that the TecTiles will reduce screen taps at the end of the day to speed up commonly performed function.
With an NFC-enabled phone, like the Galaxy S III, TecTiles can automatically launch any one of four functions–automatically change settings or launch an app, perform phone or messaging functions, check-in, or launch social networking functions.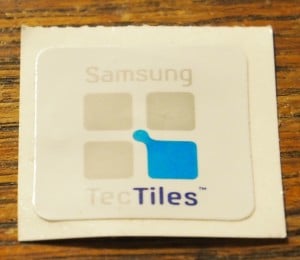 Users can program these stickers to be re-written multiple times if they're for personal use. For instance, placing a tag next to a bedside charger or dock, you can automatically set it so that calls are silenced at night and the alarm is set for a certain time in the morning when you tag your phone. Wake up and go to the kitchen, and another cleverly placed TecTile next to the coffee machine can launch your favorite news app and turn on your ringer again. And then in your car, you can have a TecTile to launch the phone's car mode and start Google Maps with Navigation.
Businesses can set TecTile to check in customers using Foursquare or Facebook if they place these TecTiles on menus or at the entrance. Professionals can swap digital contact cards and office workers can place one outside their office door or cubicle so that when they're not there, visitors can tag their phones call you when you're away from your desk.
The concept is very similar to what Sony had debuted earlier this year at the Consumer Electronics Show in the form of Smart Tags for the Xperia S smartphone.
The nice thing about TecTiles is that with more invasive phone tasks–such as checking in, making calls, or sending messages–users will have to verify and confirm these tasks so it's not fully automated. This way, businesses cannot deceive you into doing something through clever programming. Other phone-related tasks, such as launching an app or setting the alarm can be automated and require no confirmation on the end of the user.
When launched, TecTiles will retail in packs of five, with each set costing $15. That averages to $3 per TecTile sticker. At that rate, it's still not economical enough to place on every business card you have to hand out, but still cheap enough to use around the home or office.
Press release:
Samsung Mobile Puts All The Pieces in Place to Bring NFC To The Masses
Inexpensive, easy to use Samsung TecTiles™ Programmable NFC Tags can be customized to launch apps, send text messages, share contact information, change phone settings and more, with an NFC-enabled Galaxy smartphone
DALLAS — June 13, 2012 — Samsung Telecommunications America (Samsung Mobile) is helping consumers realize the potential of NFC technology today with the creation of Samsung TecTiles™ and the TecTile™ programming application. With the largest user base of NFC-enabled devices in the United States and TecTiles available in all four major carrier stores and at major online retailers at the launch of the Galaxy S III, Samsung is ensuring NFC becomes a part of daily life.
With a simple tap of an NFC-enabled phone to a TecTile, consumers are able to automate everyday functions of a smartphone including sending a "headed/at home" text message, silencing the phone when entering a meeting, setting an alarm, and dimming the display when going to bed.
Samsung TecTiles will transform how businesses large and small engage with consumers. On premise, TecTiles enable consumers to check-in on Facebook® or foursquare®, connect to Wi-Fi® or download content. Off-premise, businesses can use TecTiles as a way to market to and engage with consumers by enabling reward programs and to download discount offers or content.
"With millions of NFC-enabled Samsung Galaxy smartphones currently in the market and the arrival of our flagship device Galaxy S® III, Samsung saw an opportunity to expand the value of NFC beyond mobile payments," said Dale Sohn, president of Samsung Telecommunications America, the No. 1 mobile phone provider in the U.S. and worldwide[1]. "The launch of Samsung TecTiles is another example of Samsung's ability to innovate new products and applications that improve the way we use our mobile devices for everyday tasks."
Samsung TecTiles are easy to program with any NFC-enabled smartphone and the free application, which can be found in the Google Play™ marketplace. TecTiles can be reprogrammed as often as needed to complete any of the following functions on an NFC-enabled phone:
Settings & Applications
·         Change phone settings (Bluetooth®, Wi-Fi, ringer/media volume, screen brightness, etc.)
·         Launch an application
·         Join a Wi-Fi Network
·         Show a message
Communication
·         Make a call
·         Send a text message
·         Start a Google Talk™ conversation
·         Share a contact or business card
Location & Web
·         Show an address on a map
·         Open a web page
·         Foursquare or Facebook check-in
Social
·         Automatic Facebook "Like"
·         Update Facebook status
·         Post a tweet or follow a contact on Twitter
·         Connect on LinkedIn®
Samsung NFC-Enabled Android TM Smartphones
·         Samsung Galaxy S® III on AT&T, Sprint, T-Mobile, US Cellular and Verizon
·         Samsung Galaxy S® II on T-Mobile
·         Galaxy Nexus TM on Verizon, Sprint and GSM Unlocked
·         Nexus TM S ® 4G on Sprint
·         Samsung Galaxy S® Blaze ® 4G on T-Mobile
Pricing/Availability
Priced at $14.99 for a pack of five, TecTiles programmable NFC sticker tags are now available for purchase online and in-store at AT&T, Verizon, Sprint, and T-Mobile. The Samsung TecTiles app is now available for download at the Google Play store.
© Samsung Telecommunications America, LLC.  Samsung, Galaxy, Galaxy S, and TecTiles are all trademarks of Samsung Electronics Co., Ltd. Android and Nexus are trademarks of Google Inc.  All other company names, product names and marks are the property of their respective owners and may be trademarks or registered trademarks. 

As an Amazon Associate I earn from qualifying purchases.