Samsung the Latest Manufacturer to Confirm Windows Phone 8
After HTC had dropped hints of ushering new phone hardware with the arrival of Windows Phone 8, codenamed Apollo, earlier at Mobile World Congress, rival Windows Phone manufacturer Samsung is now offering similar hints of the impending next-generation Microsoft mobile operating system at the same trade show. Along with announcing that Windows Phone 8 will be arriving on devices by the end of the year, Samsung also reaffirms its commitment to the platform; the company now delivers phones on Windows Phone, Android, and Bada operating systems and have worked with Windows Mobile and Symbian in the past.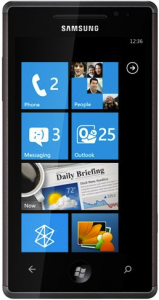 Additionally, Samsung reveals that there will be more overlaps between Microsoft's Windows 8 OS and Windows Phone 8 OS, the latter of which is designed specifically for phone. In the past, Microsoft says that tablets and other computing devices will be utilizing the full Windows 8 OS while phones will rely solely on Windows Phone 8. Samsung, which revealed its convergence story, also hinted that elements of Windows 8 will be found on Windows Phone 8 and vice versa:
Windows Phone 8 is coming at the end of the year, and will increase the capability of the platform, and Samsung is looking to optimize its devices on that. We're very excited about Windows Phone 8, as we're one of very few manufacturers that can do the convergence story that we can – so the fact that Windows 8 covers everything from tablets to laptops to phones is very cool.
Currently, Samsung also manufactures Android smartphones and tablets under its Galaxy brand. The company has a Windows tablet in the form of the Series 7 slate.
Via: TechRadar

As an Amazon Associate I earn from qualifying purchases.