Samsung to Follow Apple's Quad-Core Graphics Lead With Next-Gen Exynos 5 Chipset
It looks like Samsung may be following in Apple's footsteps with a dual-core ARM processor with quad-core graphics as the next generation version of the company's Exynos chipset, found on the Galaxy S II, international Galaxy Note, and other devices. According to a leaked slide presentation, Samsung will be utilizing a newer ARM Cortex A15 architecture on its Exynos 5 line, which will utilize a pair of cores clocked at 2 GHz and a quad-core Malu T-604 MP4 graphics engine on Samsung's new 32 nm process.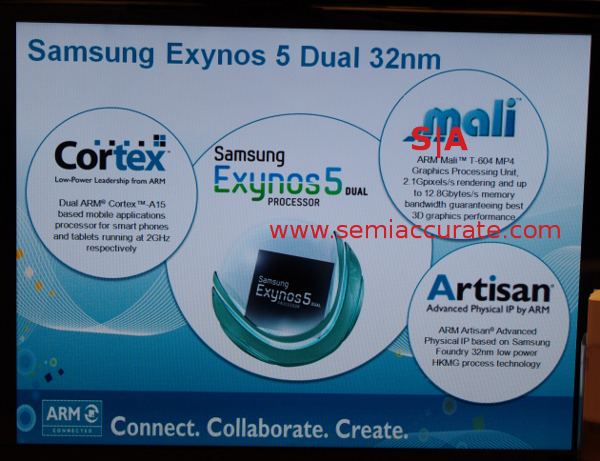 Apple recently introduced an updated ARM CPU in the form of the A5x when the company had debuted the new third-generation iPad. The A5x has the same dual-core gigahertz CPU found on the original A5 chipset, and not a quad-core architecture as many had hoped for, and comes with quad-core graphics. According to Apple, the quad-core graphics is 4 times more powerful than the engine found on Tegra 3, but preliminary benchmarking shows that while the A5x does beat out the Tegra 3 in graphics performance, Apple's lead is not quite as large as what the company is promoting.
Performance using the new ARM Cortex A15 process will be a much improved experience compared to the older Cortex A9 architecture. The older ARM Cortex A9 architecture was used on NVIDIA's quad-core Tegra 3 chipset as well as being rumored for a quad-core Exynos chipset on the next-generation Galaxy S III smartphone. It's unclear how a dual-core Cortex A15 will compare to the a quad-core ARM CPU utilizing an A9 architecture in terms of both performance and battery life.
Hopefully, we'll begin to learn more about the chipset. So far, based on early benchmarks of what's available today, it looks like Huawei's first foray into making ARM CPUs with its proprietary K3V2 chip is beating out the competition, which includes the dual-core Exynos found on the international Galaxy Note as well as the quad-core NVIDIA Tegra 3 processor.
Via: SemiAccurate