Samsung's Galaxy Tab 3 7.0 May Have Stopped by FCC En Route to AT&T
While we had reviewed the mid-sized Galaxy Tab 3 8.0 recently, it looks like Samsung's more modest Galaxy Tab 3 7.0 may have made a stop at the FCC for U.S. regulatory approval before making its final home on AT&T. The device was shown with support for both AT&T-compatible 3G UMTS and 4G LTE bands, according to Engadget, in the FCC certification filing.
Thus far, at least in the U.S. market, Samsung had only announced the Galaxy Tab 3 series, which comes in 7-, 8,- and 10.1-inch display sizes, in WiFi-only configurations.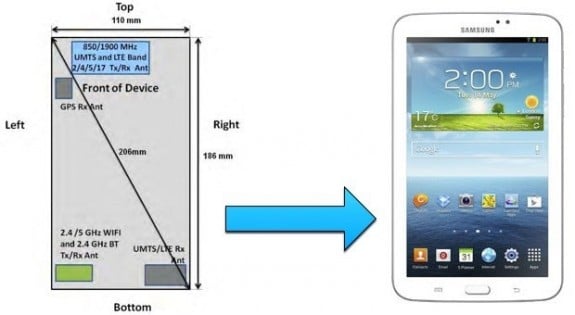 In addition to the Galaxy Tab 3 7.0, AT&T also offers Samsung's larger S Pen-enabled Galaxy Note 8.0 tablet, an 8-inch Android slate that's similar to the Galaxy Tab 3 7.0, but comes with an S Pen digitizer for note-taking and better specs.
For the Galaxy Tab 3 7.0 to be successful on AT&T, the device would need to be priced competitive. Not only will it be competing with Apple's 7.9-inch iPad mini and Samsung's own Galaxy Note 8.0 with LTE on the Rethink Possible network, but Google also launched a mid-2013 refresh to its Nexus 7 slate, offering a thinner, slimmer design and inclusion of an LTE modem that supports 4G bands on AT&T Mobility, T-Mobile U.S., and Verizon Wireless. That device will be made available "in the coming weeks" for a price of $350 without a contract required. Moreover, the Nexus 7 (2013) features a higher resolution display than the Galaxy Tab 3 7.0's more meager 1024 X 600-pixel screen. Both the Nexus and the Tab 3 7 feature slimmer side bezels, making the slates even more portable.
It's unclear how AT&T will price the Tab 3 7.0 once it lands. For the Note 8.0, AT&T offered the same $400 pricing for that device as Samsung does for its WiFi-only variant, except AT&T requires a 2-year contract at that price.

As an Amazon Associate I earn from qualifying purchases.