Samsung's Knox Security Suite Approved by the Department of Defense
Knox, Samsung's enterprise security platform for Android devices, has been approved for use by the United States Department of Defense.
Knox was designed around securing devices that users bring from their homes into the workplace for use, a trend that the technology industry as a whole has taken to calling "Bring Your Own Device." By supporting Samsung Knox and other BYOD platforms, large organizations like the Defense Department and companies in the private sector can better protect their internal networks while providing a way for their employee's device's to be used in work place environment.  In effect, the single device is able to partition the user's personal data from that of the organization, and secure it against theft.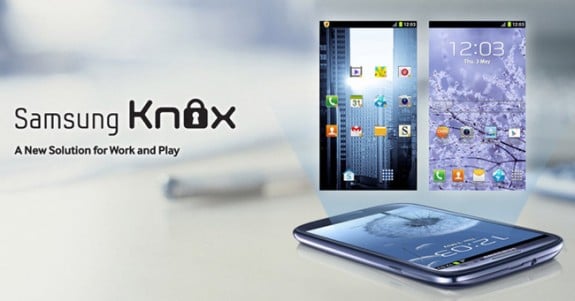 Samsung Knox was approved through the Defense Department's Defense Information Systems Agency. That agency approves all devices that can be used on the Defense Department's secure network. The agency also announced its approval of Knox at the same time as it announced approval for BlackBerry's BlackBerry 10 operating system.
According to internal numbers shared with Reuters at the time of Knox approval, the agency currently has 600,000 employees using smartphones and mobile devices. Of those, 470,000 are using BlackBerry devices, and 41,000 are using Apple devices. Only 8,700 people within the department are using Android devices. The Defense Department maintains that those using Apple and Android devices are only being used in pilot programs.
Read: Knox Security Suite Won't Arrive in time for Galaxy S4 Launch
Samsung had only recently confirmed that that Knox wouldn't be arriving in time to be included in its new flagship the Samsung Galaxy S4. At the time the New York Times had been reporting that that the security protocol wouldn't be seeing the light of day until July because Samsung still needed to conduct further tests of its security features.
As more employees move to embrace new computing form factors, software and devices, large organizations are moving to take more proactive steps in making these devices available for use at the office, particularly since tablets like the Apple iPad have begun to encroach on the sales of computers.

As an Amazon Associate I earn from qualifying purchases.