Samsung's New Gear VR Priced at Just $99
Samsung has announced a cheaper Gear VR that works with more phones – and you'll be able to buy it in time for the 2015 holiday season.
At the ongoing Oculus Connect conference in Hollywood, the VR pioneers introduced an updated model of the Samsung / Oculus co-branded Gear VR virtual reality headset. First introduced last year, the Gear VR is a virtual reality headset without any display – instead, it's designed to take advantage of the latest high resolution smartphones from Samsung.
The Gear VR scored high marks from users for its affordability – even though the beta release, styled as the Gear VR "Innovator Edition," cost $199 at the outset – because it took advantage of technology millions of people have in their pocket. It was also the only easy way to get your hands on a complete VR setup – Google created its cheap "Cardboard" VR, but it's difficult to seriously compare a folded piece of cardboard to a manufacturer-backed product like the Gear VR. Oculus' main product, as well as competitors like the Steam-backed HTC Vive, won't be out for months yet.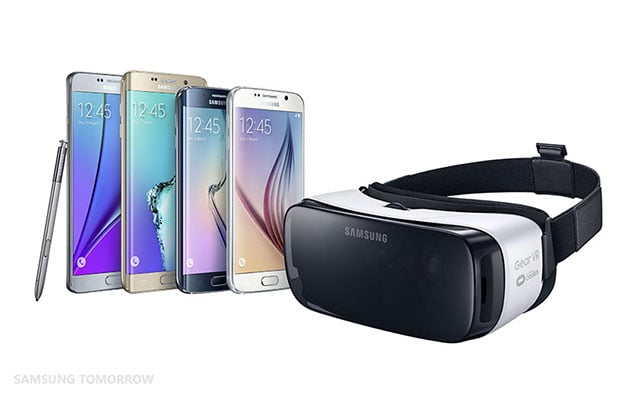 A major criticism of the original Gear VR was that it only worked with a single Samsung phone – the Galaxy Note 4 – a hardware update in March fixed compatibility with follow up phones the Galaxy S6 and Galaxy S6 Edge.  
This new version can be used with any of Samsung's 2015 lineup (confirmed at this point as the Galaxy Note 5, Galaxy S6, Galaxy S6 Edge, and Galaxy S6 Edge+). It's also 22% lighter than last year's model, making this option one of the lighter VR headsets being developed. A side-mounted touchpad was re-engineered, but specific changes weren't discussed.
Perhaps the biggest change, however, comes to the pricetag.  Samsung will be selling the second Gear VR headset for just $99, which will be a powerful selling point compared to the full Oculus Rift or HTC Vive (not to mention the fact that the Gear VR needs no powerful gaming PC to play with). Both companies also promised all new content availability, starting with Netflix – which should be available for current Gear VR owners starting today.  Other services, like Hulu, Vimeo, TiVo, and Twitch, will follow later in the fall.
Hulu, specifically, is planning a limited amount of VR-specific content, so you'll be able to do more than just lay back and watch movies on a virtual big screen.
Samsung expects the Gear VR to ship to customers in the US sometime this November – before Black Friday madness descends upon us. Worldwide shipping will follow shortly after, making this a pretty attractive option for any of the new Samsung smartphone users in your life.