Samsung's New Tablets Might Be Available for Valentine's Day in the US
At CES 2014, Samsung announced four new Tablets saying they would be available in the 1st quarter of 2014. No pricing was announced. Word is leaking out that the release date may be Valentine's Day (February 14) here for US availability. Somehow Valentine's Day and new gear don't quite go together in my mind, but then one never knows how marketing mavens work their magic. That is of course assuming these are accurate dates.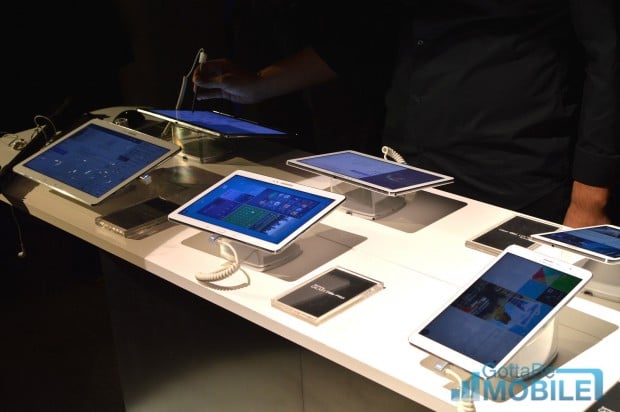 As to pricing, those who have been following along should not be surprised that Samsung's price on these Tablets look to be on the high side. Samsung had previously remarked that it was going to focus on the higher end side of the Tablet market that at times appears has a lower end that want's to race to the bottom in the pricing game.
Samsung's four new Tablets range in size from an 8.4 model, 10.1 model and 12.2 model in the Tab Pro line and 12.2 models in the Galaxy Note Pro line. Most models are expected to ship with both WiFi only editions and LTE editions, though those ship dates may not be simultaneous. The Galaxy Note Pro line comes with a stylus and Samsung's suite of stylus orientated applications and software. Prices we're seeing are listed in Euros and that doesn't necessarily convert to US dollars but here's what RootzWiki is reporting:
Samsung Galaxy Tab PRO 8.4, Wi-Fi: €389
Samsung Galaxy Tab PRO 8.4, LTE: €519
Samsung Galaxy Tab PRO 10.1, Wi-Fi: €479
Samsung Galaxy Tab PRO 10.1 LTE: €609
Samsung Galaxy Tab PRO 12.2, Wi-Fi: €649
Samsung Galaxy Tab PRO 12.2, LTE: €749
Samsung Galaxy Note PRO 12.2, Wi-Fi: €749
Samsung Galaxy Note PRO 12.2, LTE: €849
Again, prices between international markets don't always translate or convert straight across from one currency to the next. If they did in this case the GalaxyNote Pro 12.2 edition would cost well over $1000 and we've heard rumors that this model may even come in with price point as high as $1500. We could also see a price point of $750 based on past marketing history, so until there is official word we'll have to wait and see.
Below are links from CES 2014 posts as the GBM Team got to see early versions of the Samsung Galaxy TabPro and NotePro Tablets:

As an Amazon Associate I earn from qualifying purchases.