Samsung's Next Big Thing: A Transparent Galaxy S6 That You Can Tap From the Back
While all attention is currently focused on what Samsung will do for its forthcoming Galaxy S5 smartphone, expected for a debut in early 2014, Samsung may be readying its efforts to launch its next innovation with a clear phone. The company had applied for a patent that would bring clear touchscreens to the market to allow users to tap the front of the screen, as you would normally do today, as well as bring gestures and controls to the rear of the phone.
Samsung has not been afraid to experiment with new display technologies in the past. The company had recently played with a flexible display phone with the Galaxy Round and a transparent phone would offer a different user experience to consumers.
READ: 5 Ways Transparent Smartphones Will Impact You
Touching the back could allow the user to command the phone in a different way. Samsung had offered new command types for touchscreens, such as hovering the S Pen or finger over the touchscreen of a Galaxy Note 3 or Galaxy S4 to bring up expanded previews or open drop down menus. Now, those features, along with others, could be positioned to the rear, which would allow a more simpler paradigm–touching rather than hovering–for use.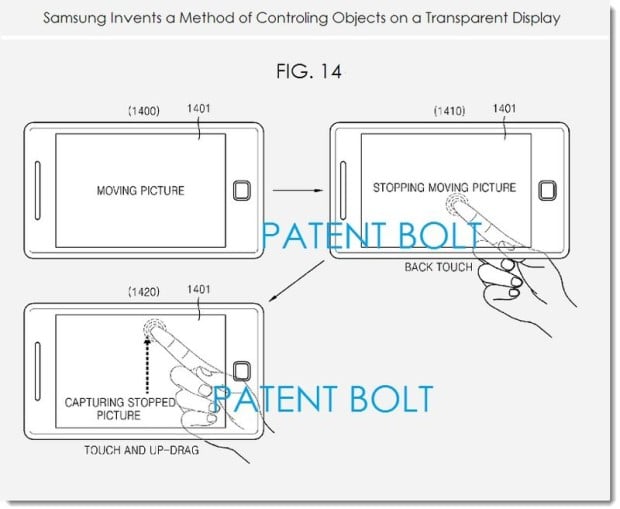 "For example, touching the back of the device would let one open a folder from a list of folders, showing a preview of the content residing within the tapped folder," SamMobile wrote based on a patent discovered by Patent Bolt. "Or, a touch on the back would make additional info pop up, such as a note, photo, and more, without having to navigate away from what's shown on the display on the front."
Other features include unlocking the phone or even controlling video, such as scrubbing through a video to a new playback position. By positioning your hand behind the screen to do such an action, you won't be obscuring the display with your fingers as you would today by controlling the screen from the front side.
It's still too early to tell when–or if–a transparent smartphone would land in Samsung's lineup. The company's Galaxy S5 line may offer changes such as a metal body, and it's unlikely that the technology will be commercially ready for mass production given the demand behind Samsung's flagship phone, but perhaps Samsung may bring a transparent phone to market with a Galaxy S6 or Galaxy S7.