Samsung's Next Tablet Could Rival Your Ultrabook And Challenge iPad Maxi
Samsung's next big thing is coming, and reportedly, the bigger, better Samsung Galaxy tablets could rival the display size on your current notebook or Ultrabook. Most recently, Samsung is rumored to be developing a tablet with a 12.2-inch display, and now ET News is reporting that the company is working on a 13.3-inch tablet.
The 13.3-inch tablet is rumored to debut sometime in 2014 and could help Samsung achieve its lofty goal of moving 40 million tablets in a year.
These would be among Samsung's larger tablet offerings, exceeding the 10.1-inch Galaxy Note 10.1 2014 Edition and Galaxy Tab 3 10.1 tablets that are on the market today.
At this time, it's unclear what features the larger tablets may employ, but it's speculated that an octa-core processor may help power the tablet. This isn't the first time that we're hearing of a larger Galaxy Tab as rumors of a 13-inch tablet from Samsung had emerged about a year ago.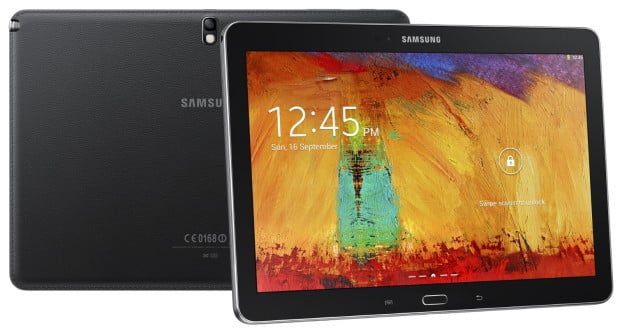 News of additional screen sizes coming to Samsung's tablet range should be unsurprising as Samsung has been approaching the mobile market with a diversity of screen size choices. In the Galaxy Tab range, the company currently has tablets with a 7-, 8-, and 10.1-inch display. The Samsung Mega phone comes in either a 5.8- or 6.3-inch screen sizes, and the Galaxy S4 bears a 5-inch display while the Galaxy Note comes in 5.7-, 8-, or 10.1-inch variants. This covers a lot of the display spectrum below a 10-inch display, and expanding the tablet lineup may help Samsung court consumers looking to dump traditional laptops and notebooks in the post-PC era.
Similarly, Samsung rival Apple is also rumored to be experimenting with a larger iPad in the 12- or 13-inch range. A 12.9-inch iPad is speculated to be undergoing testing at a Foxconn plant, and Samsung may be working on a larger Galaxy tablet to beat Apple to market. PadNews is reporting that Apple's "iPad maxi" could debut in March 2014.
Though a larger tablet would perhaps be less portable than a 7- or 8-inch slate, Samsung could make inroads with the education market with a larger display if coupled with an S Pen. Apple most recently revealed that it dominates the education market, and a Galaxy Note 13.3-inch could help Samsung break into this market by offering a large enough screen for students to take notes and make drawings on.
As the PC market is slowing down with sales of notebooks declining, a larger tablet could help Samsung maintain momentum in the transition to the post-PC era.

As an Amazon Associate I earn from qualifying purchases.