Samsung's Q1 + Dr. Neil + Hugo Ortega = Success for Audi Australia
In a partial list of my favorite things, you would certianly find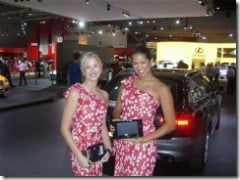 technology, sporty cars, www.gottabemobile.com and pretty women. Not necessarily in that order. ;) I can't afford all four, but hey I can dream can't I? :)
For now, I will have to settle for living vicariously through Dr. Neil and Hugo O. Talk about dream gigs! Seriously though, I always get a real kick out of reading about practical solutions that deploy Tablet/UMPC technology and applications. Here is yet another vertical hardware and tablet application that shows off how well suited the UMPC is for the task.
When Audi Australia needed to build an updated contact/lead tracking system to use on the show floor, they got in tough with the good doctor (Dr. Neil). He in turn, called in his "big guns", Samsung and Hugo Ortega, to help deliver a completely "Audiized" UMPC solution. Hugo selected the Samsung Q1 for the hardware platform and in typical "over the top" style, Audi elected to ditch the standard TIP based entry interface in favor of a custom Audi branded one designed by TrickyBusiness in the UK using Microsoft's new Expression development tools. This added to the overall excellence that Audi wanted to communicate to prospects during the Motorshow in Melborne, Australia.
"Recently I was contacted by Audi Australia by a rather freshly-migrated sounding German man. His name was Wolf [no surprise there] and his desire was to automate the manner in which Audi records and interacts with leads (names and numbers) from the Motorshow floor. The upcoming Motorshow was to be held in Melbourne, and in a very German like manner Wolf had only given me a matter of days to help him address his problems all of them…" Read the full story here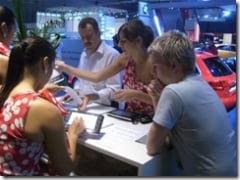 GBM "Thanks" to Dr. Niel

As an Amazon Associate I earn from qualifying purchases.