SanDisk launches integrated SSD, up to 64GB right on the mobo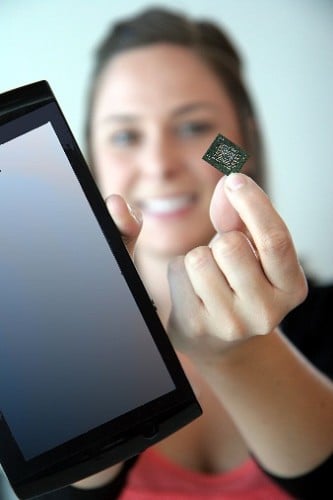 SanDisk has announced what they claim is the smallest 64GB SSD on the market, and they're targeting it at mobile PCs, including Tablet PCs and ultra-thin notebooks.
The integrated SSD, or iSSD, is part of a new line of embedded drives designed specifically for mobile PCs. As seen in the photo of the blurry cute girl, the drive is really small – "smaller than a postage stamp and weighs less than a paper clip." It uses a SATA interface in a BGA (Ball Grid Array) that allows it to be soldered flat on to a motherboard without sacrificing the usual speed of SATA, offering up to 160MB/sec sequential read and 100MB/sec sequential write speeds. They further claim the flat design allows for greater airflow and fanless operation. Clearly they're targeting x86 systems with this as opposed to ARM-based systems which are already fanless. Capacities range from 64GB on down to 4GB.
SanDisk has released samples to OEMs with evaluations being done by top-tier manufacturers, so too early to say when we'll reap those advantages. Also no mention of price, but given the range of capacities, I'd guess they're aiming for affordability and lower production costs.
Via Engadget