SanDisk Launches "World's Fastest" MicroSD Cards
While some smartphones are moving away from microSD cards, SanDisk is busy making a new super-fast card for the phones that still have the option.
SanDisk claims its new microSD card is the "world's fastest" memory card for smartphones and tablets. The company's new card boasts read speeds of 95MB/second, and write speeds of 90MB/second. With those speeds, it's hard to argue with SanDisk's claims, those are certainly the highest numbers we've seen for any microSD card so far.
The speeds are even faster than some USB 3.0 flash drives we've seen.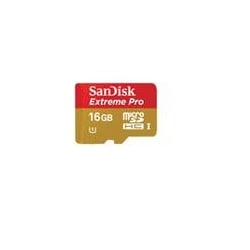 SanDisk calls the new card the SanDisk Extreme Pro microSDHC UHS-I. The UHS Speed Class 1 rating is equivalent to the standard Class 10 rating.
According to SanDisk, the new card is ideal for shooting photos in burst mode on a smartphone. Burst mode is where users will really see the 90MB/second write speeds. The card is also great for shooting full HD and 3D video.
Android users will also be happy when running apps from the new card. The read/write times on the SanDisk Extreme Pro microSDHC UHS-I mean Android apps should run seamlessly when run from the card.
The only downside to the SanDisk Extreme Pro microSDHC UHS-I is the limited size availability. The card is only available in 8GB and 16GB models for now, and they are fairly expensive. The 8GB model costs $59.99, while the 16GB model sells for $99.99. Other cards offer more storage for the same price, though none are quite as fast.
SanDisk should eventually lower the price and offer more storage options for the Extreme Pro microSDHC UHS-I, but it will likely take a long time for that to happen.