Satachi SCH-121 Review: Cup Holder Mount for Smartphones and Tablets
The Satachi SCH-121 Cup Holder Mount promises to keep your smartphone or tablet in place while driving by holding it in your car's cup holder.
It fits almost any smartphone or tablet thanks to two included brackets that adjust to fit your device.
But how stable will your device be while in the cupholder?
Pros

Adjustable arm
Expandable base to fit some cup holders
Bracket holds device securely

Cons

Too unstable for tablets
Too short for cars with lower cup holders
Base too light
Arm won't expand to make it taller
Video Review
Flawed Idea
First, lets deal with the concept of the design. Almost every car has a cup holder somewhere near the driver's seat, so this should be a great idea, right?
I use my cup holder a cup of coffee on the way to work or a big gulp from the convenience store on a hot day. Do you really want to take up your cup mount to hold your phone or tablet when you can find other options?
I know I don't.
Design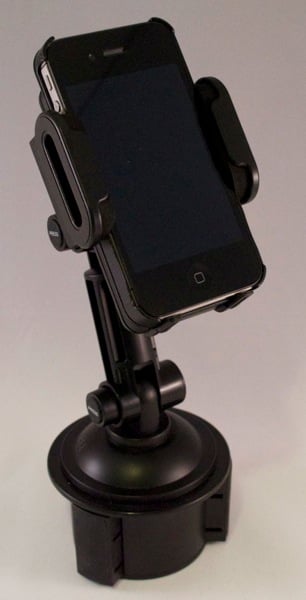 Now on to the bigger problem with the Satechi solution. It doesn't work that well for two additional reasons.
First, the mount wobbles too much, if you don't have the right kind of cup holder. See my video about how my car's cup holders can't hold the mount properly, even with the adjustable base.
If you have a solid cup holder that's high enough for you to see your phone while driving, then the cup holder mount might hold your phone in a suitable spot securely. But that's the second problem with the cup holder in my car. It's too short for me to see it while I'm driving.
The mount has an adjustable cup holder insert. Spin the mount and three tabs protrude from the base to hold it in place in some cup holders.
On the arm that holds the bracket you get two swivel points that adjust when you press the buttons. This lets you angle the phone or tablet for the proper viewing angle.
The brackets that hold the device adjust small enough for tiny feature phones and big enough for a Samsung Galaxy Note with a whopping 5-inch screen. Similarly, the tablet mount will hold a Kindle Fire or an iPad. A button release on the brackets release the phone or tablet and the brackets clamp tightly so your device won't fall out.
Suggested Improvements
I'd like to see Satechi fix a few things. Add some weight to the base. A solid piece of rubber or metal would hold a heavy tablet in place better than the light plastic base. Also, make the arm from the base to the bracket adjustable. People who have a low cup holder like I do in my 2011 Honda Pilot can't use this safely for GPS navigation while driving. I have to look down to see it.
I can only recommend the Satechi SCH-121 Cup Holder Mount for Smartphones and Tablets to those using it for holding a smartphone in a cup holder that higher than mine and in the car with a smaller cup holder so that the adjustable base will fit. If that means you, then you can buy one directly from Satechi for $29.99.
Others should consider a different solution. A good smartphone bracket-based mount comes from Bracketron. The Universal GPS Window Mount works great for smartphones and a GPS unit and only costs $29.95.
Tablet users will have to keep looking since I haven't found one I like yet for the front seat of the car. If you're in the back seat, consider Voguls RingO Mount System for iPad.