Satechi Fixes the 12-Inch MacBook's USB-C Problem
The 12-inch MacBook is a revolutionary device indeed, but the fact that it has only one USB port has been a problem for some users. Satechi has revealed a couple of new products to try and fix it.
The company has revealed a USB-C card reader that includes a slot for a regular SD card and a slot for a microSD card. The small, flash drive-sized device can be plugged into anything with a USB-C port, and it's small enough to easily carry around in a pocket or a backpack and quickly whip it out when you need it.
Read: New MacBook: 5 Things I Learned on the First Day
The card reader will be priced at $20 when it releases later this year and will come in silver, space gray, and gold to match your respective MacBook color. It's a cheap little accessory that should be an instant purchase for photographers.
Back in October, Satechi revealed a USB-C MacBook dock that let you plug in pretty much anything you can imagine, but the company has updated the dock to include a passthrough USB-C charging port, which means that you can charge your MacBook while you have the dock plugged in.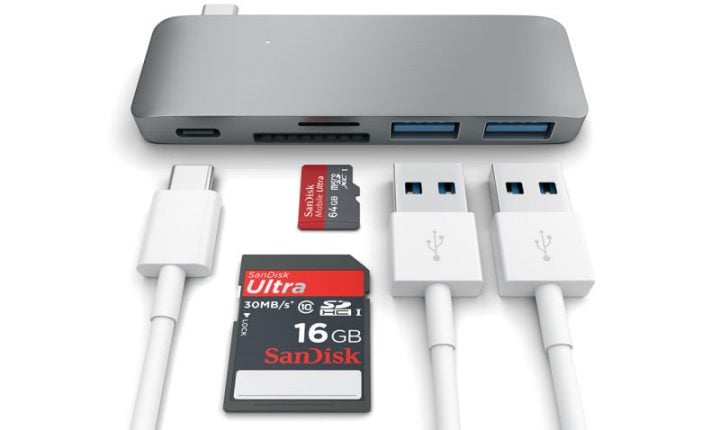 The dock includes an SD card slot, a microSD card slot, and two USB 3.0 ports. The old dock had three USB 3.0 ports, but the added USB-C port replaces one of them.
The new dock comes in the three Apple colors to choose from, and will be priced at $40 ($6 more than the old dock), which is really cheap for a dock like this, making it another instant buy for those who want more ports on their 12-inch MacBook.