Save $10 on ritePen 3.5, upgrade to 4.0 for free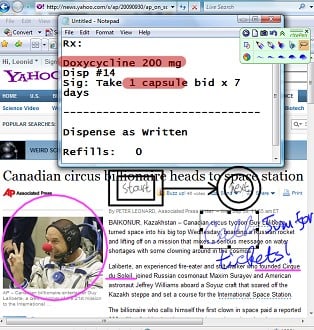 The software deals keep on coming. For a limited time, ritePen 3.5 is available for $29.95, a $10 savings, and includes a free upgrade to version 4.0, which includes special multi-touch functionality.
Sadly, my lack of a multi-touch Tablet PC has kept me from the 4.0 beta testing (will need to work on that), but for pen input, I cannot live without ritePen 3.5. If you think it's just for text input (which it does very well), you are sorely mistaken. The ink command macros are absolute invaluable, allowing me to quickly launch an app or URL, insert boilerplate text, or perform any keyboard command with a scribble. The screen capture and markup tools have made it the only tool I need for screen grabs. It's made my Tablet PC interface almost completely pen-centric.
More on my use of ritePen 3.5 here. And here's a link to a round-up of stuff I wrote after I fell in love with the ground-breaking 3.0 version. Full notice from ritePen below.
Dear Tablet PC and Digital Pen User:

We are pleased to announce a time limited special offer of ritePen 3.5 for Windows for $29.95 (regular price $39.95). Your purchase also entitles you to receive  free upgrade to ritePen 4.0 upon its public release.

– The Ritescript Team

New features in ritePen 3.5:

– Screen markup and drawing in multiple colors and pen widths with full ink editing.

– Snapshot tool will instantly send your annotated clips to Evernote notebooks or system clipboard to paste into any document.

– Ink commands automate routine actions like opening favorite websites and documents or entering standard texts via handwritten abbreviations.

– Shape and chart recognition; draw perfect shapes and charts anywhere on your screen.

– Custom user dictionaries; import your own dictionaries from generic text files (reports, articles, web pages).

– Context aware recognition; create and assign contexts for accurate recognition of forms, tables and structured documents.

– Windows 7 and 64-bit compatible.

– Multi-language support is significantly expanded.

Visit ritePen testimonials page ( https://ritescript.com/News/Testimonials.aspx) to learn why hundreds of thousands professionals and consumers all over the world are using ritePen.

Click here to take advantage of the offer; if the above link is not clickable, go to https://ritescript.com/Products/rPPromo.aspx.

Best regards,

As an Amazon Associate I earn from qualifying purchases.